All the tools you need for installing Swagelok tube fittings and bending tubing (1/4, 3/8, 1/2 in)
Fill the form to get fact sheets by email. No spam.
Swagelok Tube Fitting Assembly Toolkit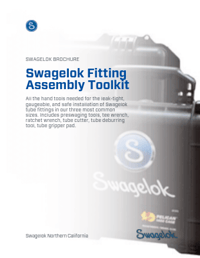 The Swagelok Tube Fitting Assembly Toolkit contains all the hand tools needed for the leak-tight, gaugeable, and safe installation of Swagelok tube fittings in our three most common sizes: 1/4, 3/8, and 1/2 in. Nestled in a locking hard case, you'll find Swagelok preswaging tools, tee wrench, ratchet wrench, tube cutter, tube deburring tool, tube gripper pad.
Swagelok Tube Fitter's Toolbox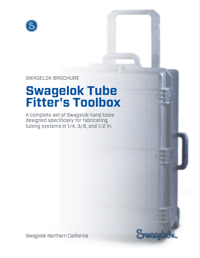 The Swagelok Tube Fitter's Toolbox contains a complete set of Swagelok hand tools designed specifically for fabricating tubing systems in 1/4, 3/8, and 1/2 in. All of the tools are securely contained in a lockable, rolling, water resistant case made by Pelican Includes hand tube benders in three sizes, tube cutter, tube deburring tool, gap inspection gauges in three sizes, Swagelok's Tube Fitter's Manual, and much more. The included preswaging tools enable you to do some work on the bench first. That's helpful if you are working in tight spaces, over your head or down by your feet.
---

This offer is for engineers, buyers, and maintenance pros in northern California & northwestern Nevada. *If you are located outside our service area, northern California or northwestern Nevada, thank you for your interest in Swagelok's products and services. Based on your geographic location, there is an authorized Swagelok sales and service center in closer proximity to your organization that may be better suited to serve you. If you would like to connect with your local sales and service center, you can find their contact information here: https://www.swagelok.com/en/locate-a-sales-service-center and enter your postal code. Price and availability may vary.