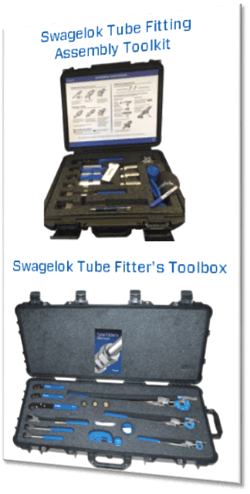 Swagelok Tube Fitting Assembly Toolkit
Swagelok Tube Fitter's Toolbox
The Swagelok Tube Fitter's Toolbox contains a complete set of Swagelok hand tools designed specifically for fabricating tubing systems in 1/4, 3/8, and 1/2 in.
All of the tools are securely contained in a lockable, rolling, water resistant case made by Pelican
Includes hand tube benders in three sizes, tube cutter, tube deburring tool, gap inspection gauges in three sizes, Swagelok's Tube Fitter's Manual, and much more
Bonus: Registration for one to our next scheduled quarterly Swagelok Tube Bending Seminar and Swagelok Tube Fitting Safety Seminar included with purchase!
Price $1,899.99*
The included pre-swaging tools enable you to do some work on the bench first. That's helpful if you are working in tight spaces, over your head or down by your feet.

Fill the form on this page for access to PDFs with photos and details and the link to the order page.
*This special offer is for businesses located in our service area of northern California and northwestern Nevada.