Swagelok Northern California
Swagelok Northern California
Grab Sampling Assemblies
Fully assembled, leak-tight modules ready to install. Design, fabrication, testing, and warranty included.
Locally Built Grab Sampling Systems
Swagelok Northern California can build custom grab sampling assemblies that meet specific process requirements. These assemblies provide a simple, effective way to safely collect samples and keep samples in their representative state for analysis. We deliver fully assembled and tested panels that are ready to install. Please use the button get in touch for details or a quote. (In a hurry? Please call 510-933-6200.)
Specifying a grab sampling system
Two system types allow for capture into one of two types of containers — pressure-containing metal cylinders as found in the Grab Sample Module (GSM) or non pressure-containing glass or polyethylene bottles as found in the Liquid Only Sampling Module (GSL).
If our customer is comfortable specifying a grab sampling system, we build to spec. Swagelok application guides and other resources empower customers to create a detailed order on their own. However, many customers opt to involve Swagelok in design. We recommend starting with an onsite evaluation by a Swagelok field engineer. That way our customer gets Swagelok advice grounded in observation of current conditions.
Benefits of collaboration
Let's compare Swagelok-assisted design to handling it in-house:
Professional design
No costly design errors. Our engineers are fluent in industry best practices and handle design.
Professional design
Support
We can give technical support during installation, lead trainings, restock sample cylinders, and more.
Support
Product selection
We pull and assemble all and only the parts needed. No guesswork. No buying wrong components.
Product selection
No surprise costs
No surprise costs like needing to buy (or train on) specialized tools to achieve leak-tight assembly.
No surprise costs
Documentation
Testing is included. Documentation shows test results, components, materials of construction.
Documentation
Repeatability
Swagelok's Quality System ensures consistency. And we can give one SKU for a whole assembly.
Repeatability
About Swagelok Grab Sample Modules (GSM)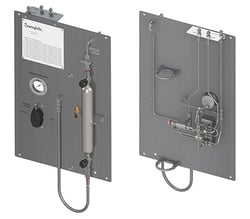 The Grab Sample Module (GSM) is a sampling panel using cylinders for capturing either liquid or gas into a sealed, pressure-containing vessel. Closed loop sampling provides a sample that is fresh and extracted and held under the same process conditions that existed at the time of sample, with the exception of temperature. The sample vessel is docked in place and the process fluid is continuously circulated through the sample vessel. This means when the sample vessel is ready to be removed, the flow is isolated and the vessel is immediately ready to be removed – no waiting for lines to flush or bottles to fill.
A key feature of the GSM is the switching valve that directs flow. Using the Swagelok 40G series ball valve for this switching valve, configurations are available with either 2 or 3 valves. This allows for simultaneous control of fluid routing, reducing the number of steps required to draw a sample.
About Swagelok Liquid-Only Sampling Systems (GSL)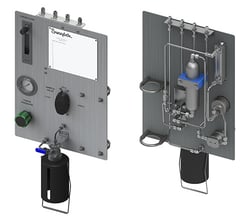 The Grab Sample Liquid (GSL) is a liquid-only sampling system for drawing fluid into a non-pressure containing bottle which can be drawn and transported without the risk of spillage or evaporation. This can be accomplished by using a bottle with a self-sealing septum cap. Bottles are a lower cost collection option that can be replaced easily if conditions warrant. Fixed volume samplers are an option that can be implemented for improved safety. This option completely separates the process pressure from the sample bottle and the user, preventing over-filling and overpressure conditions.
Swagelok GSL systems use the same switching valve as a GSM system to provide simplified operation for complex tasks. The GSL systems also include Sentry Equipment's Model MVS to draw a sample into a bottle. GSL systems are assembled with Swagelok tube fittings.
About Swagelok Grab Sample Cylinders (GSC)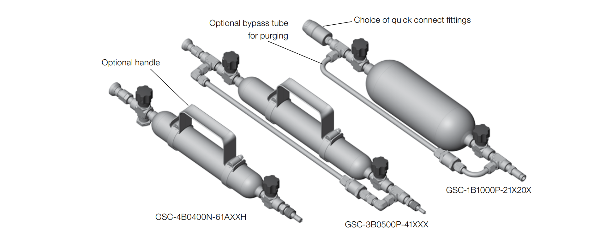 A sample cylinder is required for every GSM system and should be ordered separately when purchasing a new GSM. Various configurations of sample cylinder assemblies, defined as Grab Sample Cylinders (GSC), are available. The options available for GSC assemblies include: give standard cylinder sizes (150, 300, 400, 500, & 1000 cm3); multiple cylinder and valve material options; with or without purge bypass tube; choice of quick connects; outage tubes, rupture discs, and handles; cylinder treatment/certification; stem and body protectors; PTFE coated inner wall, SilcoNert® coating, or electropolished inner diameter; and more.
Examples
Swagelok offers 15 standardized designs for grab sampling assemblies. Built for safe, efficient sample capture, each is available in a wide variety of configurations, with or without advanced features. We design, fabricate, and test your module so it arrives ready to install.
Grab sample panels feature prominent, printed instructions next to the sampling cylinders for added safety. Here are three examples:
What to expect
Every engagement is a little different, but generally these are the steps to prepare a custom grab sampling assembly:
1. Design
Starting with a meeting or phone conversation, we gather information needed to properly specify a grab sampling system. Topics include pressure, temperature, phase, presence of hazardous or flammable material, appropriate materials of construction (including coatings, etc.), surface treatments, and purge requirements.
2. Fabrication
After design approval, certified technicians handle fabrication, working in our Class 100 clean room if necessary. Swagelok assembly certification involves producing dozens of samples, each of which is inspected by Swagelok manufacturing engineers and put through destructive testing. Passing requires a 100% score.
3. Quality Control
Every assembly is pressure tested with water to ensure proper assembly and high performance. In addition to standard testing, we can do helium leak testing, hydrostatic testing, nitrogen pressure testing, and pressure decay testing. The rigorous assembly process and 100% testing ensures you receive a high-quality reliable assembly.
4. Delivery
We clean and either cap or bag the assembly to ensure contaminants are not introduced into your fluid system from the assembly. A test certificate is packaged with each assembly. Orders ship daily or can be picked up in Concord, Sunnyvale, or Fremont. Assemblies can be installed immediately. Give us a call if you need advice on installation.
Swagelok evaluation of current systems recommended
Swagelok catalogs, application guides, and other resources empower customers to design and order grab sampling panels on their own. Still, we recommend starting with an onsite evaluation by a Swagelok field engineer. That way our customer gets Swagelok advice grounded in first hand observation of current systems and processes.
Work with local Swagelok-certified engineers specialized in grab sampling
Our local Swagelok-certified engineers are specialized in grab sampling. Temperature, pressure, phase, container type, materials, and location are just a few of the criteria they use to recommend the best solution. And don't worry about adjusting samples due to a system limitation—we correctly configure it right from the start.
Easily configure one of over a dozen standard panel designs
We offer over a dozen standard grab sample panel designs. Any of them can be easily customized to your specific process requirements. Standard sample systems can be configured using a part number table for simplified ordering (see the Swagelok Grab Sampling Systems Applications Guide). Additional instrumentation is available, including gauges, meters, and flow indicators. Systems also have versatile mounting options for easier installation. And every panel is backed by Swagelok's strong warranty.
Make substitutions, add components, change materials, and more
We are happy to work with your team to substitute comparable products (some limits apply); add coolers, flowmeters, shut-off valves, etc; change panel/bracket materials, enclosures, etc; convert to different tube size, or to metric; recommend alternate materials of construction; calculate flow/pressure drop then adjust; and recommend sample coolers/heaters and enclosure heaters' sizing per vendor engineering.
Rigorous design, assembly, and testing protocols
Swagelok grab sampling systems are reliable because they are configured, assembled, and tested by experts according to strict guidelines, then tested. Every local Swagelok technician undergoes rigorous training and certification every three years. Our certified engineer monitors every step. Each GSM and GSL is shell tested, up to a maximum of 1000 psig/69 bar. (Additional testing available.) And, every Swagelok product is backed by Swagelok's warranty.
Installation directions, training for team members, and more
To deliver more value, we can provide technical support during installation, lead training seminars for personnel, restock items like sample cylinders, and more. On completion of your grab sample panels, a representative from Swagelok Northern California can usually provide hands-on training to your technicians on proper use and maintenance.
About Swagelok Northern California
Since 1963, Swagelok Northern California has provided thousands of manufacturers, processors, suppliers, and innovators with Swagelok fluid system products and expertise. Over 100 engineers, technicians, trainers, and other professionals make up our local team. With that expertise and $25M worth of Swagelok products in our three local warehouses, we are ready to help you run safe, cost-effective operations.
About Swagelok Company
Established in 1947, Swagelok Company is a global company headquartered in Solon, Ohio. It has 20 manufacturing facilities, 6 global technical centers, and a network of 225 sales and service centers in 70 countries employing thousands of associates.
Request Information/Support
Need details or a quote? We are ready to help.