Swagelok Northern California
Swagelok Northern California
Design & Assembly Services
Fully built, leak-tight custom solutions. Includes design, testing, documentation, and warranty.
Browse Swagelok Assembly Examples
From simple to complex, Swagelok Northern California has the skills, tools and components to design, build, and test assemblies that exactly meet your needs. Our dedicated Custom Solutions team includes Swagelok-certified mechanical engineers, welders, and assembly technicians — many with decades of experience. We produce a professional, repeatable solution, with testing, inspection, and packaging included—all covered by Swagelok's Limited Lifetime Warranty.
Please use the button to start a job or get details, or call 510-933-6200.
Analytical Subsystems
Swagelok has developed standardized yet highly configurable designs for assemblies that meet common analytical instrumentation needs. We offer fast loop modules, field station modules, calibration and switching modules (shown), and other options.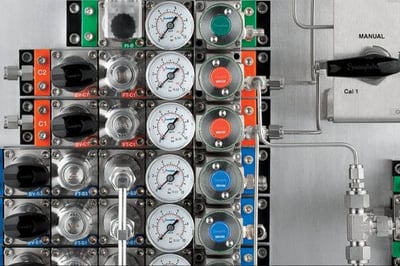 Design Consulting
We conduct thorough needs analysis, work collaboratively to identify options, and deliver CAD/sales drawings for safe, streamlined assemblies. Short deadline? Tight space? Budget pressure? We strive to meet all your needs during this collaborative process.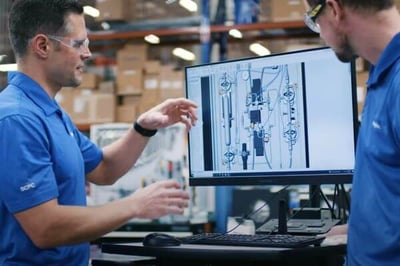 Engineered to Order
Swagelok specialists follow the Design Consulting steps (above), plus provide a technical quote with firm pricing and turnaround estimate. Once approved, we fabricate to spec, test the assembly, and deliver it with detailed documentation.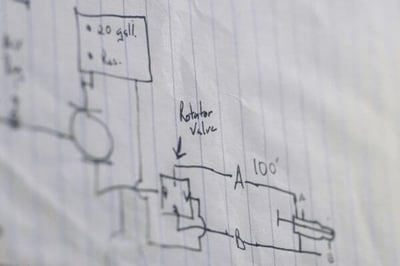 Gas Distribution Assemblies
Swagelok offers standardized yet highly configurable panels and other elements of gas distribution systems. We offer design, fabrication, and testing of customized gas distribution assemblies. They arrive fully built, documented, and ready to install.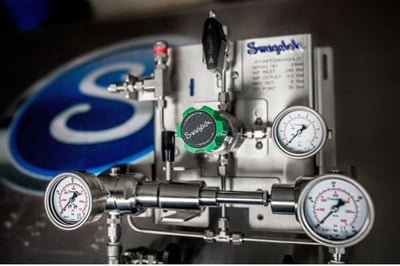 Grab Sampling Assemblies
Swagelok now offers standardized designs for grab sampling assemblies. Built for safe, efficient sample capture, each is available in a wide variety of configurations, with or without advanced features. We design, fabricate, and test your module so it arrives ready to install.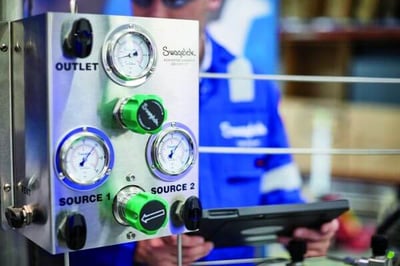 Hose Assemblies
We can provide hose assemblies using 22 types of hose/flexible tubing and 89 end connection options. Our certified technicians fabricate, inspect, test, document, and warranty every hose before it leaves our shop, so you can immediately install it.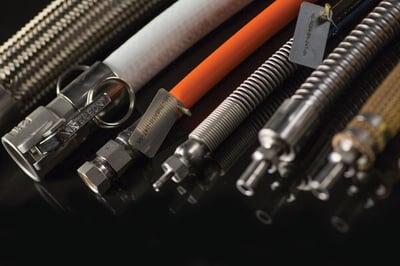 Regulator Assemblies
We offer custom regulator assemblies for gas bottle or inline service, often using the KPR-Series pressure reducing regulator (KLF for 0-10 psig control range). With our Configurator Software and large local inventory, often we can deliver within 48 hours.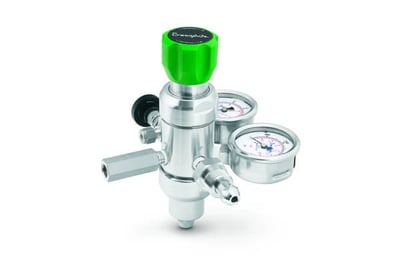 Seal Support Kits & Plans
We offer kits, assemblies and components that help deliver either gas or liquid to the environment in which a seal operates, increasing seal longevity. All standardized kits and plans have been designed by Swagelok engineers to meet API 682 standards.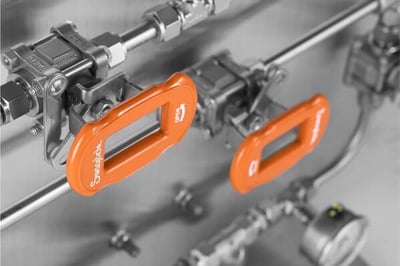 Tube Bending
We bend 1/4" to 2" stainless steel tubing in our Fremont shop. Bend analysis, fabrication, testing, packaging are included. With our certified technicians, advanced equipment, and large inventory, 48 hour turn time is common. Start your order online.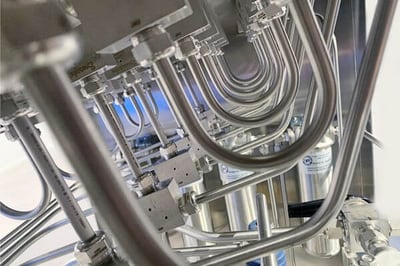 Examples
Swagelok assembly services solve a range of fluid system problems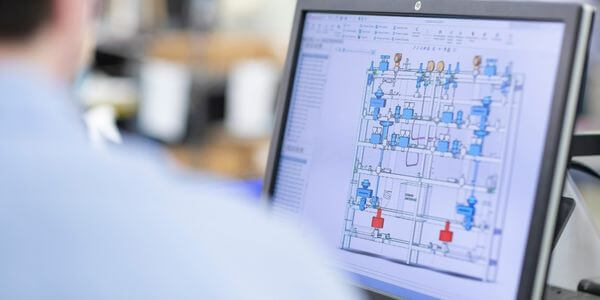 Swagelok Engineers Redesign Panels for Tight Space
Problem—A customer had tried several configurations to fit panels into a limited space, but every configuration had drawbacks. Assemblies that met their requirements always turned out too big.
Root cause analysis—With a few hours of teamwork, Swagelok field engineers provided an optimized the design that streamlined the panel to fit the small space and met all technical requirements.
Solution—Among other changes, our engineers replaced the older design's needle valves, being used for on/off service, with quarter-turn shut-off valves. That made the overall assembly more compact.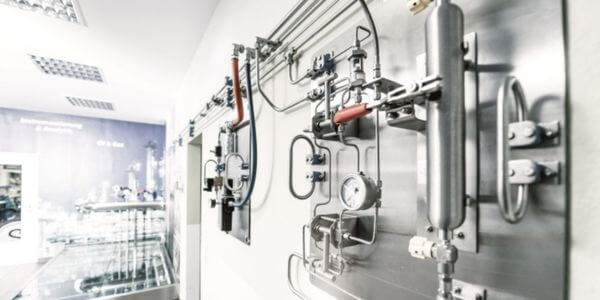 Pinpointing the Root Cause of Bad Data
Problem—A customer who was experiencing longer-than-anticipated response times on its analyzer called in Swagelok field engineers. Our team performed a system evaluation.
Root cause analysis—Fluid was changing phase multiple times as it traveled from tap to analyzer. Phase changes in a sampling line can deliver a sample to the analyzer that is not representative of the process, and as a result, the customer was making process changes based on inaccurate analytical data.
Solution—With Swagelok's help the customer eliminated all phase changes, improved its response time, and ensured representative results.
What to expect
Every engagement is different, but generally these are the steps:
1. Design
We listen to understand your application, goals, and challenges. Topics might include pressures, temperatures, dimensional requirements, presence of hazardous or flammable materials, and operator/maintenance access. We offer options and a quote. This is a collaborative process.
2. Fabrication
After the design is finalized and approved, certified technicians handle fabrication. To become certified, technicians produce dozens of samples, each of which is inspected by Swagelok manufacturing engineers and put through destructive testing. Passing requires a 100% score.
3. Testing
Every assembly is pressure tested with water to ensure high performance. We also offer helium leak testing, hydrostatic testing, nitrogen pressure testing, and pressure decay testing. The rigorous assembly process and 100% testing ensures high quality every time.
4. Delivery
We clean and either cap or bag the assembly to ensure contaminants are not introduced into your fluid system from the assembly. A test certificate is packaged with each assembly. Orders ship daily or can be picked up in Concord, Sunnyvale, or Fremont.
Our Assembly Solutions team is prepared to assist throughout the solution development process. We work closely with each customer to ensure we understand the problem and develop the optimal solution. Typically we can provide:
Collaborative planning
CAD drawings
Piping and instrumentation design (P&ID)
Component selection and sourcing
Bills of materials (BOM)
Professional services, such as bending and welding
Inspection and testing of system performance
Professional packaging and delivery
Celebrating 75 Years
Swagelok Design & Assembly Advantage
Intrinsically Safe
Our assembly solutions engineers earn certification by completing hundreds of training hours with internationally renowned experts and passing dozens of exams.
Local Fabrication
Our team of assembly technicians fabricate, bend, weld, assemble, and configure to spec. Their work is supervised and inspected by our certified assembly engineers.
Ready to Install
We follow a documented quality process that includes leak testing every assembly before it leaves our shop. Customers receive documentation with every installation-ready assembly.
Expert design
No worrying about overlooking details. Our certified assembly solutions engineers optimize your design. They consider materials compatibility, temperatures, pressures, and many other factors.
Expert design
Local shop
No more scrambling to have the right tools on hand. Our shop has all the tube bending, hose building, laser measurement, testing, and other equipment needed. We can build in our clean room on request.
Local shop
Professional assembly
No more scrap, waste, sourcing surprises, or project slow downs due to rework. Our certified assembly technicians build your assembly to spec. Work is overseen by our Swagelok-certified assembly solutions team.
Professional assembly
Leak testing
No worrying about leaks. We follow a documented quality process that includes leak testing every assembly before it leaves our shop. We offer a wide range of testing options to meet your needs.
Leak testing
$20M local inventory
No more sourcing headaches. We pull from extensive inventories in our local warehouses and handle sourcing of any non-Swagelok components. Your assembly design can be optimized for fastest turn time, too.
$20M local inventory
Free quotes
No getting hounded if you request more information. Over 75 years in business, Swagelok has succeeded by putting customers first. Please click on a green button and share a little information so we can assist you.
Free quotes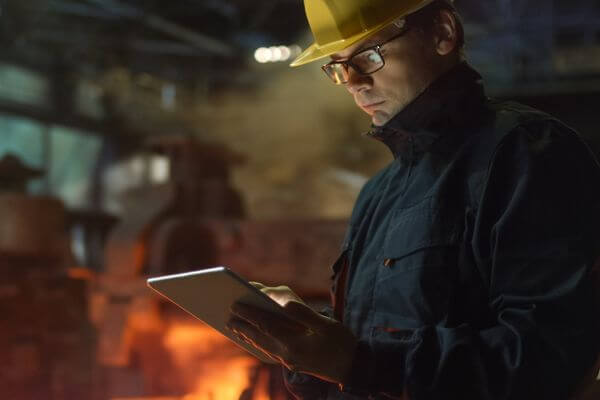 Specialists in your corner
Our assembly services are ideal if you're short on time or need specialists' skills to produce a fluid system assembly unique to your application. Consultation, design, fabrication, inspection, testing, and documentation are included. Your assembly arrives ready to install and is covered by the same warranty as our individual parts.
Scaling to your needs
We welcome projects large and small. One customer may need, say, 500 gas panels with custom bottle racks and shelters. Another may need one hose assembled or one piece of tubing bent. We jump on both opportunities with enthusiasm. Our ability to scale is one reason thousands of companies, from manufacturers and processors to researchers and suppliers, turn to Swagelok Custom Solutions.
Listening
Swagelok specialists listen to understand the exact functionality your system requires. We also listen to you regarding any time pressure, space constraints, installation concerns, regulatory demands, and other factors.
Designing
We provide a sales or CAD drawing of your assembly, a technical quotation, firm pricing, and delivery information. We design to provide a reliable, economical solution that meets all requirements.
Fabricating
Swagelok installers assemble Swagelok components (and, sometimes, non-Swagelok components) to build your assembly to spec. This includes all needed cutting, bending, swaging, welding, electrical wiring termination, and other steps needed. Basically, we can fabricate anything with fluid system components on it.
Testing
Every assembly undergoes at least pressure or leak testing before leaving our shop. We can leak test in house with hydro, pneumatic and helium leak test equipment, down to 1x10-6. Our tight tolerances are especially important to process analyzer specialists and those overseeing hazardous applications. Because we handle testing in house, we have flexibility when it comes to modifying components, doing repairs, and the like. We can even take a unit into the field for testing.
Getting details right
We can assemble, kit, and package in our Class 100 clean room if needed. We can fabricate shelters, enclosures, test headers, bottle racks, and other extras to simplify installation. We can add instructions, tags, labels, diagrams, mounting brackets, and other features to support safe operation and maintenance. And if you have questions during installation or commissioning, we are here to help.
A quality-first brand
A trusted brand stands behind each Swagelok fluid system assembly. Swagelok is a $2.4B company founded in 1947. Our quality management systems, values-driven people, and high quality products combine to help ensure consistency and value.
We stand behind every assembly
Every Swagelok product, assembly, and solution comes with Swagelok's Limited Lifetime Warranty. Systems use Swagelok components, which are designed and manufactured to the highest quality standards. Per our documented quality process, fabrication is handled by Swagelok-certified associates. Swagelok assembly certification requires that every sample produced earns a grade of 100% from the Swagelok manufacturing engineers who inspect it and put it through destructive testing.
Swagelok Northern California is always reachable. Urgent need? Call 510-933-6200 and listen for "emergency service". This option is staffed around the clock, 24x7, every day of the year.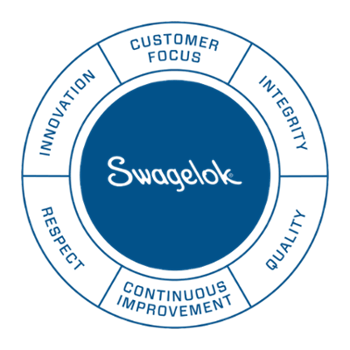 About Swagelok Northern California
Since 1963, Swagelok Northern California has provided thousands of manufacturers, processors, suppliers, and innovators with Swagelok fluid system products and expertise. Over 100 engineers, technicians, trainers, and other professionals make up our local team. With that expertise and $25M worth of Swagelok products in our three local warehouses, we are ready to help you run safe, cost-effective operations.
About Swagelok Company
Established in 1947, Swagelok Company is a global company headquartered in Solon, Ohio. It has 20 manufacturing facilities, 6 global technical centers, and a network of 225 sales and service centers in 70 countries employing thousands of associates.
Request Information/Support
Need details or a quote? We are ready to help.