Swagelok Northern California
Swagelok Northern California
Pressure Regulator Assemblies
Regulator assemblies for gas bottle or inline service
. Standardized configurations available.
Locally Built Swagelok Regulator Assemblies
Our engineers and technicians design and build pressure regulator assemblies for customers here in our Fremont, California shop. Swagelok Northern California offers regulator assemblies with the most-requested configurations for gas bottle or inline service, utilizing the KPR-Series pressure reducing regulator (KLF for 0-10 psig control range).
We are ready to discuss options, answer technical questions, and provide quotes. Please use the button to get in touch, or call 510-933-6200.
Standardized and engineered-to-order options
We offer over 30 types of regulators to suit a wide range of process, tank blanketing and instrument applications. If you are comfortable specifying your regulator assembly based on control range (psig), maximum inlet pressure (psig), and flow coefficient (Cv), great. We also offer ten popular configurations you can choose from, as well as additional options and configurations. Below are two example assemblies:
Example: Gas bottle regulator assembly
The KPR Series regulator shown here is a compact regulator with excellent accuracy, sensitivity, and setpoint pressure stability. KPR regulators feature a convoluted, non-perforated diaphragm; metal-to-metal diaphragm seal; low internal volume; two-piece cap design that provides linear load on the diaphragm seal; and high-flow, dual-gauze filter positively retained in inlet port.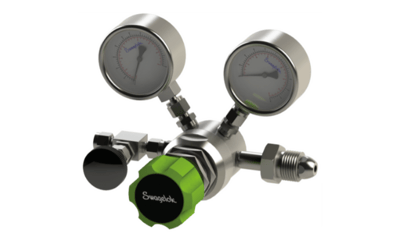 Example: Inline regulator assembly
Swagelok-certified engineers are happy to handle all the necessary calculations, component selection, and design for you. We can provide a unique SKU for easy re-ordering. Or, build a Swagelok regulator assembly ordering number yourself by combining specific designators like assembly type, inlet connection, outlet connection, gauge ports, flow direction, etc. Either way, ordering copies is easy.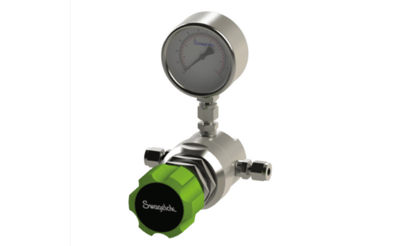 Benefits of delegating regulator assembly
Pressure control is challenging to get right in commercial fluid systems. Safety is on the line, as well as quality of output, production uptime, and labor invested over years in maintenance, repairs, and replacement. Regulators must be precisely integrated with other components to suit an application. With that in mind, let's compare having Swagelok build regulator assemblies to handling it in-house:
Expert engineering
No costly design errors. Our engineers are fluent in industry best practices and handle design analysis.
Expert engineering
Speed
Sometimes our Assembly Services team can turn a custom regulator assembly in 24-48 hours.
Speed
Product selection
We pull and assemble all and only the parts needed. No guesswork. No buying wrong parts.
Product selection
No surprise costs
No surprise costs like needing to buy (or train on) specialized tools to achieve leak-tight assembly.
No surprise costs
Documentation
Testing is included. Documentation shows test results, components, materials of construction.
Documentation
Repeatability
Swagelok's Quality System ensures consistency. And we can give one SKU for a whole assembly.
Repeatability
What to expect
Here are the main steps to preparing a custom pressure regulator assembly:
1. Design
Starting with a phone conversation, we gather information such as the assembly location, regulator assembly type, inlet connection, flow direction, and outlet connection. Depending on your application, we may ask additional questions about pressure ranges, working temperatures, and flow requirements.
2. Fabrication
Certified technicians handle fabrication, working in our Class 100 clean room if necessary. Swagelok assembly certification involves producing dozens of samples, each of which is inspected by Swagelok manufacturing engineers and put through destructive testing. Passing requires a 100% score.
3. Quality Control
Small batches are 100% quality controlled; large batches follow AQL Sampling rules. In addition to standard testing, we can do helium leak testing, hydrostatic testing, nitrogen pressure testing, and pressure decay testing. And every Swagelok product, assembly, and solution comes with Swagelok's warranty.
4. Delivery
We clean and either cap or bag the assembly to ensure contaminants are not introduced into your fluid system from the assembly. A test certificate is packaged with each assembly. Orders ship daily or can be picked up in Concord, Sunnyvale, or Fremont. Assemblies can be installed immediately. Give us a call if you need advice on installation.
We stand behind every assembly
Every Swagelok product, assembly, and solution comes with Swagelok's Limited Lifetime Warranty. Systems use Swagelok components, which are designed and manufactured to the highest quality standards. Per our documented quality process, fabrication is handled by Swagelok-certified associates. Swagelok assembly certification requires that every sample produced earns a grade of 100% from the Swagelok manufacturing engineers who inspect it and put it through destructive testing.
Swagelok Northern California is always reachable. Urgent need? Call 510-933-6200 and listen for "emergency service". This option is staffed around the clock, 24x7, every day of the year.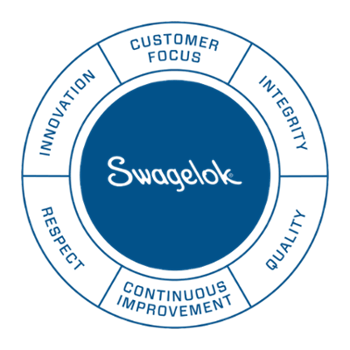 About Swagelok Northern California
Since 1963, Swagelok Northern California has provided thousands of manufacturers, processors, suppliers, and innovators with Swagelok fluid system products and expertise. Over 100 engineers, technicians, trainers, and other professionals make up our local team. With that expertise and $25M worth of Swagelok products in our three local warehouses, we are ready to help you run safe, cost-effective operations.
About Swagelok Company
Established in 1947, Swagelok Company is a global company headquartered in Solon, Ohio. It has 20 manufacturing facilities, 6 global technical centers, and a network of 225 sales and service centers in 70 countries employing thousands of associates.
Request Information/Support
Need details or a quote? We are ready to help.