Swagelok Northern California
Swagelok Northern California
Virtual Option
Delivering Swagelok engineering services and technical support without an onsite visit.
Fluid Systems Consulting Without Visits
Our customers are under pressure to do more with less. Swagelok fluid system engineers and technical support specialists often help customers remotely, without any onsite visit. Collaborating with video and phone plus exchanging files as needed, our specialists can help with all below.
Please use the button to start or get details, or call 510-933-6200.
Diagnosing & troubleshooting
Get help diagnosing and troubleshooting a fluid system or sampling system issue or considering various courses of action.
Diagnosing & troubleshooting
P&ID evaluation
Share your process and instrumentation diagram(s) and get expert feedback on functionality and cost-effectiveness.
P&ID evaluation
Fluid system design
Have us advance fluid system design work from any point -- a CAD file, a photo, a hand drawn sketch, or just an idea.
Fluid system design
Options & forecasting
Discuss potential outcomes from changing how hose, sampling systems, steam, and other issues are managed.
Options & forecasting
Explore your options
From diagnosing and troubleshooting to recommending changes to get better performance, our engineers can help address analyzer sample conditioning, grab sampling, mechanical seals, gas distribution, steam systems, and other areas. We invite you to learn more. Please click above and share a little information so we can assist you.
Small footprint in case of onsite visits
If onsite inspection is necessary and feasible, we can still keep our footprint small by using advanced headsets—worn, hands-free computers with audio, mic, camera, and heads-up display for live collaboration with additional Swagelok field engineers who are offsite.
Wide range of applications support
Whether onsite or offsite, our field engineers have valuable experience that will help you address:
Analyzer sample conditioning systems
Fluid system design optimization
Gas distribution systems
Grab sampling systems
Instrumentation pigtails for gas pipelines
Management of hose to extend life and improve performance
Manifolding for multiple gas cylinders
Mechanical seal support systems for rotating equipment
Point-of-use manifolding
Purge panels, and more
Regulator changeover manifolds
Steam systems and supporting equipment
Our field engineers complete a rigorous training and development program to ensure they always bring innovative engineering solutions. They have a track record of increasing operator safety, decreasing operating costs, and increasing profitability for companies like yours.
Pairing Onsite Services and Assembly Services
Customers get extra value when they use both our Onsite Services and Assembly Services. During an onsite evaluation, a Swagelok field engineer gathers data on your existing, installed systems and delivers detailed information on how to improve it.
If you like, our team can go a step further and advise on using a Swagelok custom solution to solve a problem. We are glad to estimate the savings and other benefits from a custom solution, and handle fluid system design and assembly if you opt for it.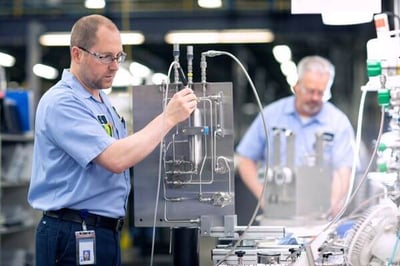 About Swagelok Northern California
Since 1963, Swagelok Northern California has provided thousands of manufacturers, processors, suppliers, and innovators with Swagelok fluid system products and expertise. Over 100 engineers, technicians, trainers, and other professionals make up our local team. With that expertise and $25M worth of Swagelok products in our three local warehouses, we are ready to help you run safe, cost-effective operations.
About Swagelok Company
Established in 1947, Swagelok Company is a global company headquartered in Solon, Ohio. It has 20 manufacturing facilities, 6 global technical centers, and a network of 225 sales and service centers in 70 countries employing thousands of associates.
Request Information/Quote
Need details or a quote? We are ready to help.