Swagelok Northern California
Swagelok Northern California
Swagelok Onsite Services
Troubleshooting & improving fluid systems to help customers get better performance at lower cost.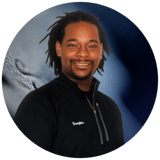 Malik Durojaiye, Field Engineer, Swagelok Northern California
Malik Durojaiye, Swagelok Northern California's local Swagelok field engineer, started as an Assembly Services Engineer. After becoming a Swagelok-certified Field Engineer, he earned Fluid System Evaluation & Advisory Services (FSEAS) certification and Sampling Systems Evaluation & Advisory Services (SSEAS) certification. Before joining Swagelok, Malik served as Structural Applications Engineer and then Manufacturing Engineer at Altec, where he designed structural, mechanical, electrical and hydraulic systems for aerial vehicles. Earlier, at Proctor & Gamble, he lead initiatives focused on manufacturing process improvements at plants across the U.S. He holds a B.S. in Mechanical & Manufacturing Engineering (BEng) from Tennessee State University. Need to discuss an issue? Please click below to get in touch.
Pairing Onsite Services and Assembly Services
Customers get extra value when they use both our Onsite Services and Assembly Services. During an onsite evaluation, a Swagelok field engineer gathers data on your existing, installed systems and delivers detailed information on how to improve it.
If you like, our team can go a step further and advise on using a Swagelok custom solution to solve a problem. We are glad to estimate the savings and other benefits from a custom solution, and handle fluid system design and assembly if you opt for it.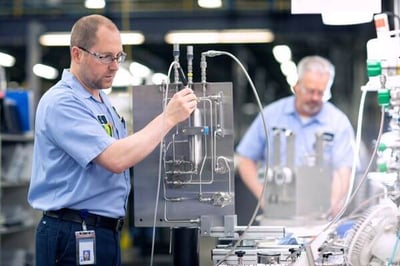 Examples
Swagelok field engineers can address almost any fluid system issue.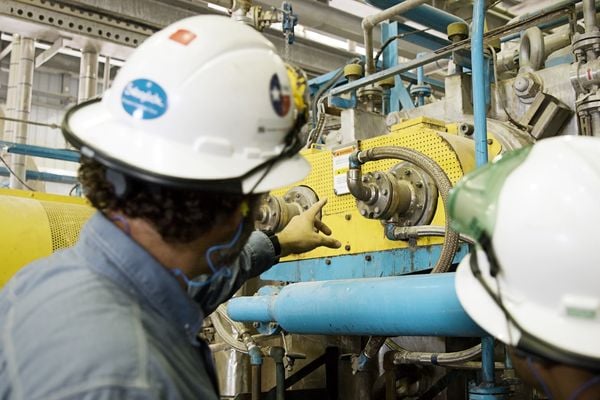 Diagnosing Hose Installation Errors
Problem—A local manufacturer experiencing production slow downs called in Swagelok Northern California field engineers for a system evaluation.
Root cause analysis—Our team zeroed in on a system handling both supply and return in a cooling media assembly. The supply and return hoses looked almost identical, and that was leading to numerous hose installation errors — even by their most experienced technicians.
Solution—Swagelok gave hose a unique type of connection, so it became physically impossible for technicians to reverse the supply and return components. Production sped up. Labor costs for rework dropped.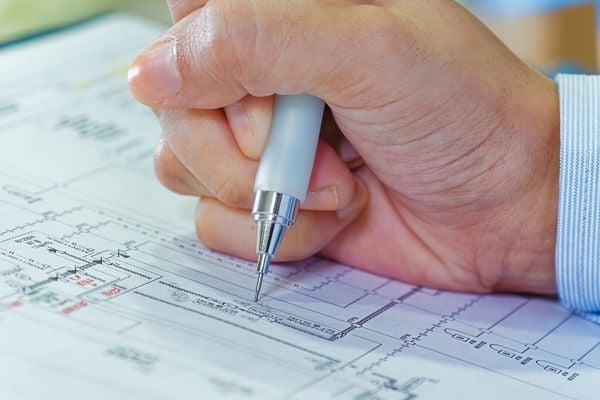 Pinpointing the Root Cause of Bad Data
Problem—A customer who was experiencing longer-than-anticipated response times on its analyzer called in Swagelok field engineers. Our team performed a system evaluation.
Root cause analysis—Fluid was changing phase multiple times as it traveled from tap to analyzer. Phase changes in a sampling line can deliver a sample to the analyzer that is not representative of the process, and as a result, the customer was making process changes based on inaccurate analytical data.
Solution—With Swagelok's help the customer eliminated all phase changes, improved its response time, and ensured representative results.
Celebrating 75 years
Swagelok engineering advantage
Subject Matter Experts
Our field engineers earn certification by completing hundreds of training hours with internationally renowned experts and passing dozens of exams. They also recertify every three years.
Global Network
Our local field engineers are part of a network of 100+ Swagelok field engineers around the world. They consult each other for specific applications experiences and more.
Broad Capabilities
Our local team includes engineers, tech support gurus, assembly technicians, procurement experts, and more. We strive to integrate all our capabilities to deliver total solutions to you.
Quality first
Swagelok's industry-leading warranty, third party certifications, SQS quality system, industry awards, and reputation demonstrate that quality is top priority at Swagelok. Since 1947.
Quality first
Fast and flexible
We provide evaluations and advice when and how you need it. We can visit your facility, conduct virtual inspections, collaborate by video and phone, exchange CAD files, and more.
Fast and flexible
Passion for details
Could installation be simplified? Would predictive maintenance save money? Could panels be standardized? Could we save you time? Our team thinks in terms of delivering total solutions.
Passion for details
Award-winning team
Swagelok has 4500 associates worldwide and 100+ locally. We value top talent and have low turnover. We recently won a Best Workplace award from San Francisco Business Times.
Award-winning team
Always reachable
Work with locals you can reach any time. For urgent matters, call 510.933.6200 and follow "emergency service" prompts. You can reach us 24 hours a day, every day.
Always reachable
Easy start
Having a conversation with us about your options is free and creates no obligation. Click below, answer some initial questions, then a senior member of our team will follow up.
Easy start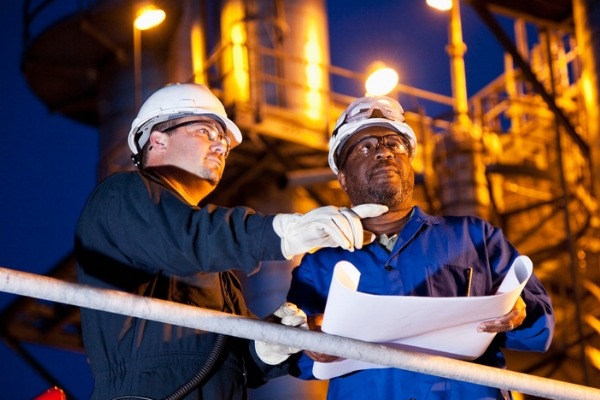 About our field engineers
During training, each field engineer completes hundreds of hours of live instructor-led training and dozens of exams. Over the course of one year, candidates must attend weekly classes and achieve virtually perfect scores on every test to advance.
Program pre-requisites
A trusted brand stands behind each Swagelok field engineer. Swagelok is a $2.4B company founded in 1947. Our quality management systems, values-driven people, and high quality products combine to help ensure consistency and value.
To start training for certification as a Swagelok Field Engineer, an engineer must have experience designing systems for diverse applications, optimizing systems to increase operator safety and decrease operating costs, and working with numerous OEM plant systems and equipment packages.
During training, each field engineer completes hundreds of hours of live instructor-led training and dozens of exams. Over the course of one year, candidates must attend weekly classes and achieve virtually perfect scores on every test to advance.
Continuing education
Swagelok field engineers must re-certify at intervals. And they may pursue additional certifications, such as the Certified-SSEAS and Certified-FSEAS badges. The additional training prepares our field engineers to seamlessly deliver total solutions for customers, every time.
Swagelok and Swagelok Northern California have low turnover, so our local field engineer who learns about your systems and applications may be just a phone call away for years to come.
No-risk next step
Thousands of companies have benefited from collaborating with Swagelok field engineers. Having a conversation with a senior member of our team about your options creates no obligation or costs. Please give us a call at 510-933-6200.
About Swagelok Northern California
Since 1963, Swagelok Northern California has provided thousands of manufacturers, processors, suppliers, and innovators with Swagelok fluid system products and expertise. Over 100 engineers, technicians, trainers, and other professionals make up our local team. With that expertise and $25M worth of Swagelok products in our three local warehouses, we are ready to help you run safe, cost-effective operations.
About Swagelok Company
Established in 1947, Swagelok Company is a global company headquartered in Solon, Ohio. It has 20 manufacturing facilities, 6 global technical centers, and a network of 225 sales and service centers in 70 countries employing thousands of associates.
Request Information/Quote
Need details or a quote? We are ready to help.