Swagelok® Miniature Modular Systems
Learn how to minimize startup and maintenance effort with miniature modular systems
Build and install compact sampling systems and miniature process analyzer systems. Conduct analyses at the process line and obtain real-time results. Backed by years of Swagelok expertise, our miniature modular systems minimize design, build, and maintenance time.
Swagelok Miniature Modular Systems come with configurator software to develop complete fluid system designs using a computerized layout grid to simplify ordering and final assembly.
Get the literature:

Fill the form on this page to get quick links by email. We keep your email private.

Get a hand: Want help

choosing, designing or assembling your modular sytems? We're here to help.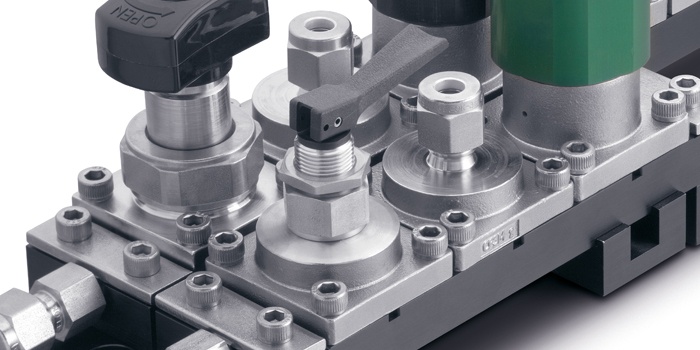 Modular Platform Components (MPC)
MPC assemblies feature reliable performance and value in a compact, ANSI/ISA 76.00.02-compliant interface. Swagelok surface-mount components are designed, manufactured, and tested to the same stringent quality requirements as conventional Swagelok fluid system components.

The components consist of a variety of Swagelok surface-mount components, which are ANSI/ISA 76.00.02-compliant, and a large selection of substrate and manifold flow components, which create the fluid distribution system. Standard O-rings provide leak-tight seals between each surface-mount and substrate flow component and between the substrate and manifold flow components.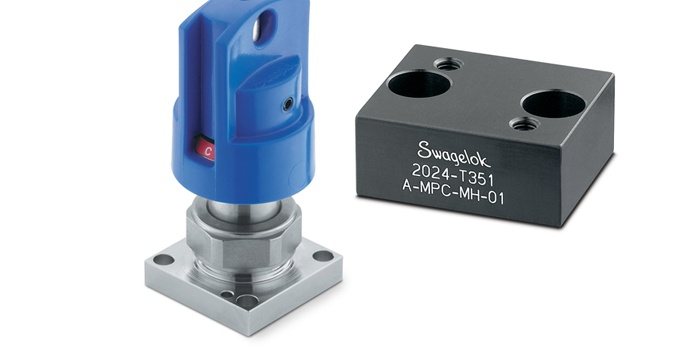 Analytical Modular Platform Components (MPC)
Swagelok® Analytical Modular Platform Components speed up design and build time and simplify maintenance in a small platform. A variety of ANSI/ISA 76.00.02-compliant surface-mount components, substrates, and manifold flow components enable efficient process analyzer, sample handling, and fluid distribution system designs. Fewer O-ring seals than other modular platform systems ease assembly and reduce the number of potential leak points. Complimentary MPC System Configurator tool simplifies component selection, layout, and ordering.
Specifications
Surface-Mount Components
Materials of Construction: See specific component for wetted materials of construction
Pressure-Temperature Ratings: See specific component for pressure-temperature ratings
Substrate and Manifold Components
Materials of Construction

Seals: Kalrez® Fluorocarbon FKM
Wetted materials: 316L SS (ASTM A276 or A479) and fluorocarbon FKM or optional Kalrez
Seals, Mounting Blocks and Assembly Hardware: See the Modular Platform Components (MPC) catalog, MS-02-185
Nonwetted materials: Aluminum (alloy 2024-T351, hard-coat anodized) and 300 series stainless steel

Temperature Range: 20 – 300°F (-6 - 148°C)
Working Pressure: 1000 – 2115 psig (68.9 – 145 bar)