Swagelok Northern California
Swagelok Northern California
Swagelok Fluid System Evaluation
Examining customer's systems as a whole. Advising on troubleshooting, optimizing, and lowering costs.
Swagelok Evaluations Help Find Savings
In a Swagelok Fluid System Evaluation, our field engineers evaluate a plant's fluid systems and processes; calculate potential benefits from addressing observed issues; and report in detail on the steps to achieve measurable improvements. A Swagelok report may run 30+ pages. It is intended as a practical guide — a road map — to achieve greater reliability, energy efficiency, and savings. Videos below explain more.
Please use the button to get a quote or details, or call 510-933-6200.
Methodology
Measuring and documenting issues
Swagelok field engineers conduct a full inspection of your facility. We note potential safety hazards, misapplication of components, and excessive wear or damage. Our thermal imaging and ultrasonic equipment finds leaks of compressed air, argon, helium, nitrogen, etc as small as 1x10-3 cm3/s. We store measurements and observations in Swagelok's proprietary onsite inspection app, cataloging notes, photos, and key statistics.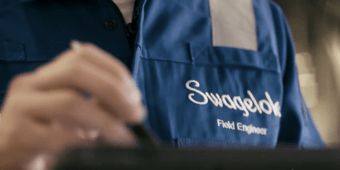 Quantifying each issue
We quantify each issue's impact on your operation by assigning it a score. Scores reflects a range of considerations, such as but not limited to issue location, issue severity, effect on safety of operators and other personnel, effect on emissions, effect on system reliability, and effect on product quality.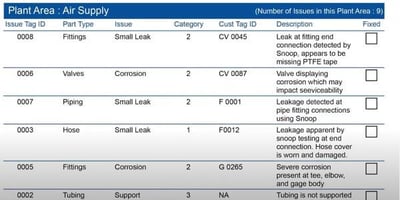 Estimating potential savings in dollars
Your report shows the systems we evaluated, root cause and fix for issues found, dollar cost per year of each issue, and dollar savings you can capture. Reports show issue category, issue description, issue tag ID, part type, and more. We take as much time as you need to discuss the findings.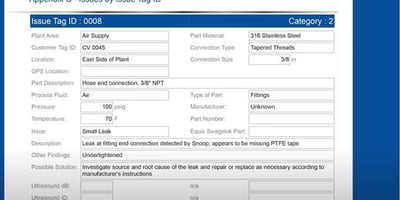 What to expect
Every customer, facility, and engagement is unique, but often things progress as follows:
1. Listening
Starting with a meeting or phone conversation, we gather information to understand the situation. We want to learn about our customer's application, operations, and current challenges. Then we recommend next steps and provide a quote, if applicable.
2. Inspection
Swagelok-certified field engineers conduct an inspection of your facility to pinpoint issues. Our thermal imaging and ultrasonic equipment finds leaks as small as 1 x 10-3 cm3/s. We also note potential safety hazards, misapplication of components, and excessive wear or damage.
3. Analysis
Working with data and observations made onsite, we quantify each issue's impact on your operation. Advice reflects a range of considerations, such as issue location, severity, estimated cost; and effect on safety, emissions, system reliability/production capacity, and product quality.
4. Delivery
We deliver and discuss recommendations. Reports summarize what was evaluated and our top recommendations then show detail on each issue in an appendix. Customers have as much as time as they need to discuss the findings with our field engineer(s).
Bringing Swagelok expertise to you
Site survey
When a Swagelok field engineer arrives at your facility, they conduct a site survey. That includes evaluating specific components such as fittings, tubing, hoses, valves, and gauges, to spot opportunities to align with best practices. They may also look at compressed gas systems, finding opportunities to reduce leaks, and assess overall fluid system health to identify opportunities to maximize uptime.
Purpose-built diagnostic, collaboration, and documentation technology
Advanced headsets that connect each deployed field engineer to a live virtual meeting with offsite Swagelok field engineers, so you have a global team of relevant application experts focused on your systems
Thermal imaging and ultrasonic equipment that finds leaks that eyes and ears miss, saving time and money and potential safety hazards
Specialized tablets that go where regular devices can't to diagnose and document issues during inspections
As your field engineer determines exactly what is in place and how it is performing, they consider safety, emissions, quality, functionality, and other factors. And they grade issues found to help you prioritize.
Detail-rich reporting and guidance
Your report is packed with details and guidance, like closeup photos and measurements, estimates regarding the financial, safety, or other impacts of each issue found, and recommended steps to mitigate each issue. We discuss the findings and recommendations thoroughly with you.
Let's find ways to help you save
Learning more is easy and risk-free. Just click the button below and fill a short form; then we exchange more information. There is no obligation.
Periodic reassessment recommended
Consider repeating this evaluation at intervals. In addition to pinpointing any new issues, periodic evaluations render objective assessment of progress on known issues. Continuity is especially important as the facility's most knowledgeable team members reach retirement age. Reassessment is important too when there are changes to process conditions, energy costs, or production goals. And, each engagement is an opportunity to address specific topics in more detail with Swagelok field engineers who have a strong baseline understanding of your operation.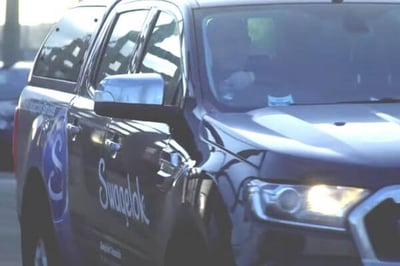 Request Information/Support
Need details or a quote? We are ready to help.