Swagelok Northern California
Swagelok Northern California
Gas Distribution Assemblies
We offer fully built assemblies that are ready to install. Configurable standardized options.
Locally Built Swagelok Gas Panels & More
Many of our customers use compressed air, oxygen, nitrogen, or argon in their facilities. Some also use helium, hydrogen, or special mixtures of gasses. Swagelok Northern California's in-house team of engineers and technicians can produce the fluid system assemblies that gas distribution depends on. Assemblies arrive fully built, using high-quality, leak-tight Swagelok components and tested prior to delivery. Please use the button to get in touch for details. (In a hurry? Please call 510-933-6200.)
Avoiding threaded connections
Threaded connections are common in industrial gas distribution systems, but they are inherently prone to leakage. And even when the only gas involved is compressed air — a seemingly free resource — a leak still means using extra power to keep the pressure up. (A leak with an orifice of only 1/16 of an inch at 100 psig will waste 280,000 cubic feet in a month. And the cost of leaks soars if using helium, hydrogen, nitrogen, argon, special mixtures, etc.)
Putting decades of Swagelok R&D to work
The designs of Swagelok gas distribution systems make it easy to ensure you're getting the most usage of the gas in your supply bottles. What's more, components within the systems can be easily removed or replaced for maintenance. Videos below on this page show our capabilities.
Gas distribution depends on four subsystems
Gas distribution systems typically have four subsystems: a source inlet connection, primary gas pressure control, points of use, and an automatic changeover. Here are two examples:
Swagelok gas distribution assemblies
Swagelok offers standardized assemblies for each of the subsystems. Swagelok Northern California can tailor a standardized design for you here in our Fremont shop. The process includes consultation, design, fabrication, inspection, testing, documentation, and delivery.
Swagelok Source Inlet (SSI)
The source inlet connects the high-pressure gas source and the distribution system. It is important the inlet is built with appropriate cylinder connections, hoses, tubing, filters, and vent, purge, and relief functions to ensure that gas can be safely fed into the primary gas pressure control or automatic changeover.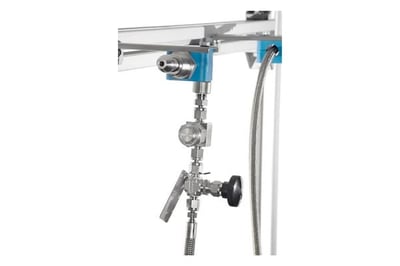 Swagelok Gas Panel (SGP)
The SGP handles the first pressure reduction of the source gas, delivering it at the correct flow rate to the next stage. Pressure is reduced with a single regulator or in two stages with a dual regulator arrangement. Modular panel is easy to service as any part can be removed via a Swagelok connection.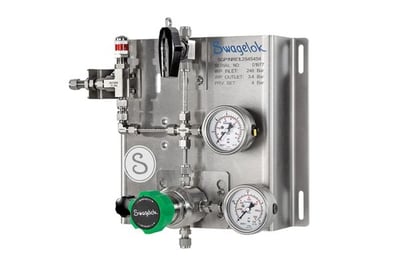 Swagelok Changeover (SCO)
With staggered set points on two pressure regulators, the automatic changeover system switches between sources without interrupting supply. Adjustable changeover set points help reduce wasted gas left in cylinders. Optional line regulation is available if your system incorporates a point-of-use regulator downstream.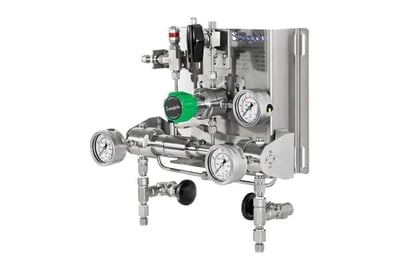 Swagelok Point of Use (SPU)
This assembly handles the last stage of pressure control. Point-of-use systems give operators and technicians a convenient and accurate method of adjusting pressure to meet their test bench or equipment needs. Typically it has a pressure regulator, gauge, and isolation valve. We can add directions, tags, labels, etc.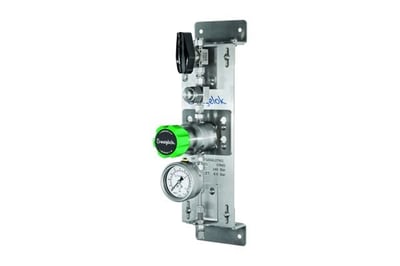 What to expect
Here are the main steps to design and build a custom gas distribution assemblies:
1. Design
Starting with a meeting or phone conversation, we gather information needed to properly specify the module or system. Topics include pressure, temperature, phase, presence of hazardous or flammable material, appropriate materials of construction (including coatings, etc.), surface treatments, and purge requirements.
2. Fabrication
After design approval, certified technicians handle fabrication, working in our Class 100 clean room if necessary. Swagelok assembly certification involves producing dozens of samples, each of which is inspected by Swagelok manufacturing engineers and put through destructive testing. Passing requires a 100% score.
3. Quality Control
Every assembly is pressure tested with water to ensure proper assembly and high performance. In addition to standard testing, we can do helium leak testing, hydrostatic testing, nitrogen pressure testing, and pressure decay testing. The rigorous assembly process and 100% testing ensures you receive a high-quality reliable assembly.
4. Delivery
We clean and either cap or bag the assembly to ensure contaminants are not introduced into your fluid system from the assembly. A test certificate is packaged with each assembly. Orders ship daily or can be picked up in Concord, Sunnyvale, or Fremont. Assemblies can be installed immediately. Give us a call if you need advice on installation.
Onsite evaluation is recommended
Let us know if you would like to start with an onsite needs assessment. Our field engineers specialized in pressure control will inspect your existing systems then deliver a detailed report and consult with you. The report shows overall system performance and existing components' fitness for function, including required vs. actual flow rates; safety, environmental, and reliability scoring for each system; compressed gas leaks and the money that is being lost to them; areas for improvement and suggestions for suitable solutions; and recommendations for maximizing gas bottle usage.
Example: gas panels' common design footprint reduces labour hours
At one leading chemical company, Swagelok identified ways to standardize gas panel design. They found components for purging and venting had been added over the years, resulting in unnecessary complexity. Removing critical relief valves via tapered, threaded connections during maintenance required significant labour time. And the customer's use of different gas panels from multiple suppliers made planning ahead for replacement difficult. Through the Gas Distribution Program, this customer achieved:
Enhanced system and site safety
$52,000 saved on panel replacement every five years
75% reduction in gas panel maintenance time
Panel standardization that freed up time for more critical tasks
Lower carbon footprint from stopping leaks and other changes
We invite you to explore your options by talking with us. To discuss by phone, please call 510-933-6200 Mon-Fri 7am-6pm.
About Swagelok Northern California
Since 1963, Swagelok Northern California has provided thousands of manufacturers, processors, suppliers, and innovators with Swagelok fluid system products and expertise. Over 100 engineers, technicians, trainers, and other professionals make up our local team. With that expertise and $25M worth of Swagelok products in our three local warehouses, we are ready to help you run safe, cost-effective operations.
About Swagelok Company
Established in 1947, Swagelok Company is a global company headquartered in Solon, Ohio. It has 20 manufacturing facilities, 6 global technical centers, and a network of 225 sales and service centers in 70 countries employing thousands of associates.
Request Information/Support
Need details or a quote? We are ready to help.