Optimize front end processing, back end sampling, & energy use
From maintaining accurate pressure, temperature, flow and analytical measurements to improving uptime of rotating equipment and emissions monitoring systems, the pressure to improve performance doesn't stop. But Swagelok Northern California is here to help you meet the challenges.
Products popular with our chem and petrochem customers include:
Grab Sample Panels
Hose assemblies with end connections
T and X Series PTFE Hose
Swagelok tube fittings
Regulator assemblies
Isolation valves
Services used by our chem and petrochem customers include:
Assembly & fabrication services
Process Analyzer Sampling System training (PASS Class)
Gas regulation and steam services
Design optimization
Refinery & Petrochem Steam System Optimization Course
Other particularly relevant services include advice on minimizing hose maintenance, leak detection, and orbital welding training.
Grab Sample Systems
Configurable, local, reliable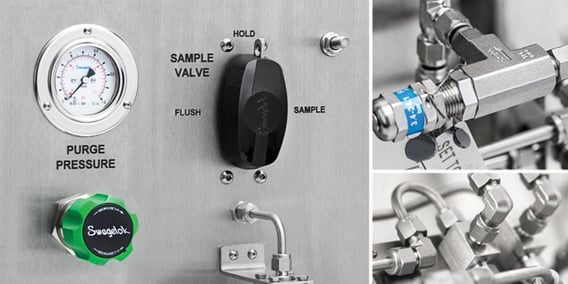 Customizing Swagelok grab sample systems allows for safe, efficient sample capture—meeting your specific plant application needs. The panels are available in a variety of configurations and advanced features. Plus, local support ensures fast, dependable expert service.
Hose assemblies with end connections
Every hose tested before delivery

Here at our Fremont, CA facility, 12 full-time certified hose technicians build thousands of Swagelok hoses per year. Our associates use specialized tools to cut hose and flexible tubing to precise lengths then attach chosen end connections, pressure-test and document the results, and deliver.
Every single hose you receive from us has been tested. We can do hydrostatic, immersion, and pressure decay tests. And the documentation you receive links each hose with its local assembler.
PTFE Hose
Flexible, resilient, versatile

Swagelok T and X Series PTFE Hoses are for instrumentation lines for laboratories and testing, transfer lines for most chemicals, corrosives and dyes, and water and polymer lines for cleaning heat exchanger piping.
Process Analyzer Sampling System Training
Preparing staff to spot issues & tune performance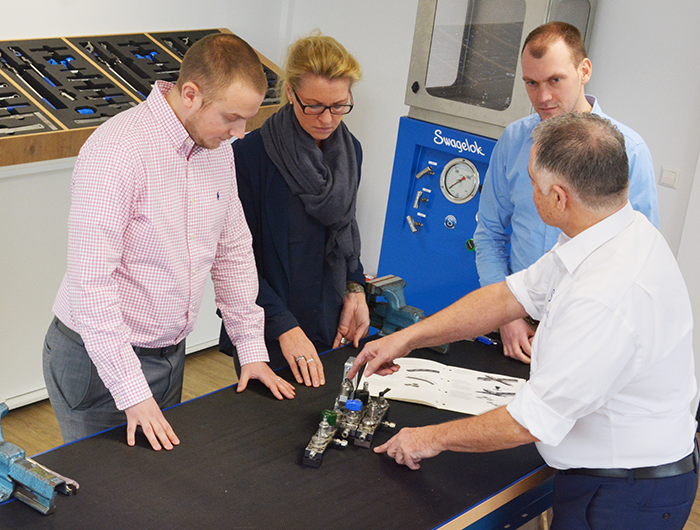 Swagelok prepares process analytical engineers, technicians, and maintenance personnel to catch mistakes before they happen. Our experts will teach yours to recognize existing problems in installed systems, fine-tune for optimum performance and, ultimately, provide a timely result that is representative of the fluid in the process line at the time the sample was taken.
Analytical Instrumentation training covers most everything a learner needs to know about process analyzer systems—from basic chemistry through sampling system design and build, all the way to system troubleshooting and optimization.
Swagelok tube fitting
Repeatable, reliable, leak-tight connections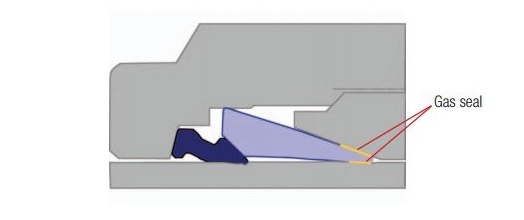 The Swagelok tube fitting was patented and brought to market in 1947, resolving problems the refining and petrochemical industries were experiencing in making repeatable, reliable leak-tight connections on process instrumentation systems.
The patented case-hardening process and back-ferrule geometry produce an excellent colleting grip of the tube, minimizing the effects of vibration. Because this design uses consistent geometry instead of torque for gaugeable make-up, the Swagelok tube fitting can be used on a range of thick- or thin-walled, hard or soft tubing, while resisting the effects of pressure and thermal cycling.
Excellent gas-tight sealing and consistent reassembly help ensure your chemical and petrochemical plant systems—batch and continuous processing, fluid flow, heat and mass transfer, mixing, separation, and utilities—operate efficiently and enable you to output economically in commercial quantities.
Assembly and fabrication services
Built-to-order, made-to-order, and engineered-to-order options
Assembly Solutions customers receive:
As much time as you need to discuss the solution

CAD drawing with

piping and instrumentation diagram

C

omponent selection and B

ill of Materials

Bending, welding, and a

ssembly

by certified technicians

Testing and warranty of the assembly

Professional packaging and delivery
With 70+ local associates and a dedicated Assembly Solutions Team at our Fremont office, Swagelok Northern California can help you achieve your goals. Whether putting an adapter on a valve or configuring a complete panel or sampling system, our team can design it, build it, and warranty it.
Energy management services
Minimize leaks. Maximize efficiency
We offer comprehensive energy management services, including identification of leaks and other energy wasting problems in your facility, recommendations on cost-effective corrective actions, and more.
In Swagelok's Compressed Gas Leak Detection Program, we track down argon, helium, nitrogen, and CDA leaks as small as 1 x10-3 cm3/s; quantify and analyze each one; and arm you with details you need to tighten up your operation.
Steam System Optimization Seminar
The Refinery & Chemical Steam System Reliability, Safety, and Optimization training course reviews all aspects of a refinery/chemical steam system and is designed to provide attendees with a solid understanding of steam system management including topics such as heat transfer, steam leakage, desuperheating, steam tracing, steam turbines, steam and condensate piping, safety, and steam system mass balancing. Attendees work in groups to accomplish different tasks relating to a steam system.
Get in touch
Because of the many services, products, materials, and technologies available from Swagelok, it may be a challenge to identify the one that is best for your need. Swagelok Northern California professionals are ready to help.
Fill the form on this page to let us know you'd like more information. Doing so creates no obligation - it starts a conversation. We value your privacy and protect your information.