Swagelok Pressure Regulators
Reliable pressure control is essential to the safe operation of your fluid systems.
We have the right regulators to fit almost any situation, and our experts can help you choose a configuration that will maintain pressure and minimize droop over a wide range of pressures and flows. Swagelok Northern California offers a comprehensive line of pressure regulators, including back-pressure dome-loaded; back-pressure spring-loaded; pressure-reducing dome-loaded; pressure-reducing spring-loaded; high purity; sanitary; and tank-blanketing regulators. Scroll down for an overview.
Ways to learn more
Just the facts! G

et the literature by filling the form. No spam.

Get a hand: We can help you choose the right regulator. We also offer assembly services: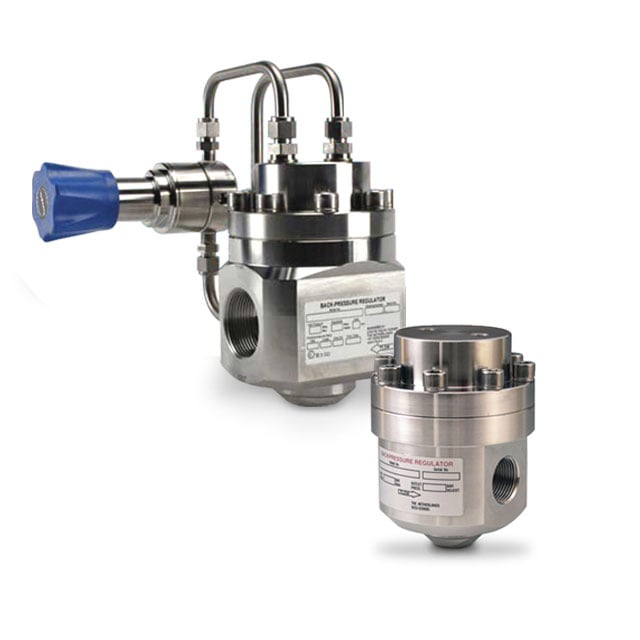 Back-Pressure Dome-Loaded Regulators
Control inlet or upstream pressure to protect sensitive equipment from costly damage
Enable dynamic pressure control to provide more consistent upstream pressure as flow demands vary
Maintain control safely with the fixed gas dome by balancing the dome pressure against the force of the inlet pressure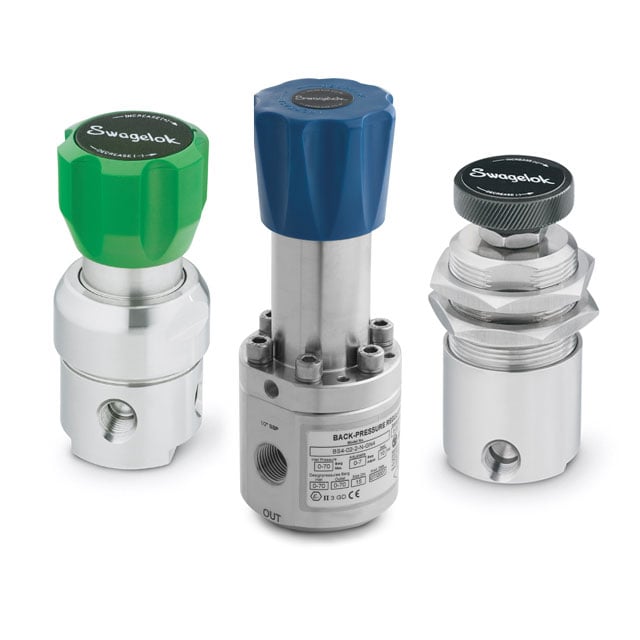 Back-Pressure Spring-Loaded Regulators
Maintain upstream pressure control in analytical or process systems
Protect sensitive equipment from costly damage
Have low internal volume
Are offered in various styles to adapt to any setting or requirement including: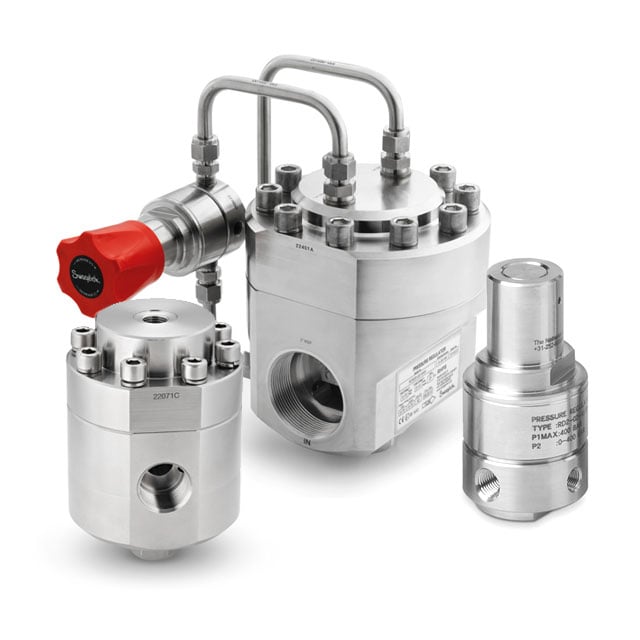 Pressure-Reducing Dome-Loaded Regulators
Minimize droop by balancing outlet pressure with dome pressure
Enable dynamic pressure control to provide more consistent downstream pressure as flow demand vary
Maintain control safely by balancing the dome pressure against the force of the outlet pressure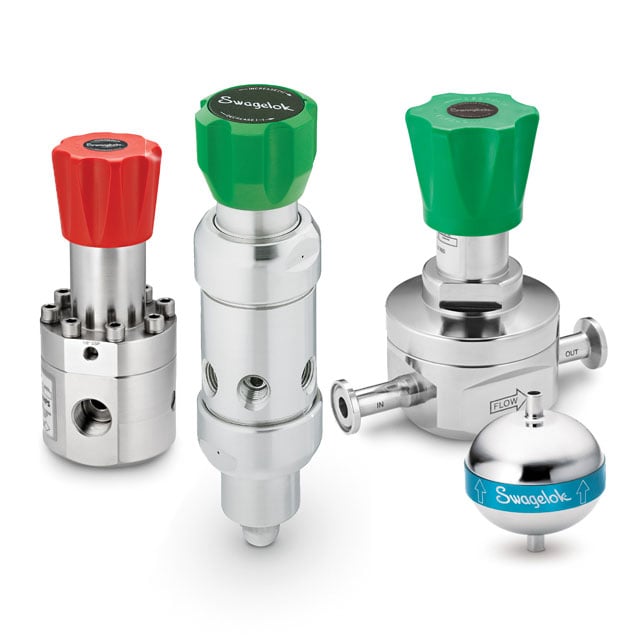 Pressure-Reducing Spring-Loaded Regulators
Reduce downstream pressure and keep it constant, even when inlet pressure or flows fluctuate
Control inlet pressures up to 10 150 psig (700 bar)
Minimize droop in conditions with flow and pressure fluctuation
Are suitable for gas or liquid and high-purity or high-flow applications
Are offered in bottom-mounting, self-venting, tamper-free designs, as well as panel-mounting, convoluted and non-perforated diaphragm, metal or polymer seats, and two-stage configurations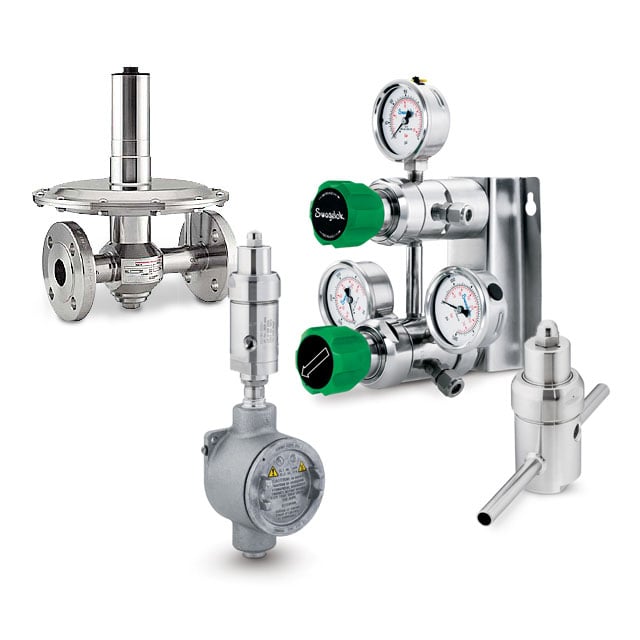 Specialty Pressure Regulators
Designed to fit special applications
Accommodate phase changes with steam-heated and electrically heated gas vaporization models
Switch automatically between two gas sources with the gas cylinder changeover model, easing the burden and downtime associated with manual changeovers
Provide low pressure and high flow of an inert gas to the vapor space of a storage tank with a tank blanketing pressure regulator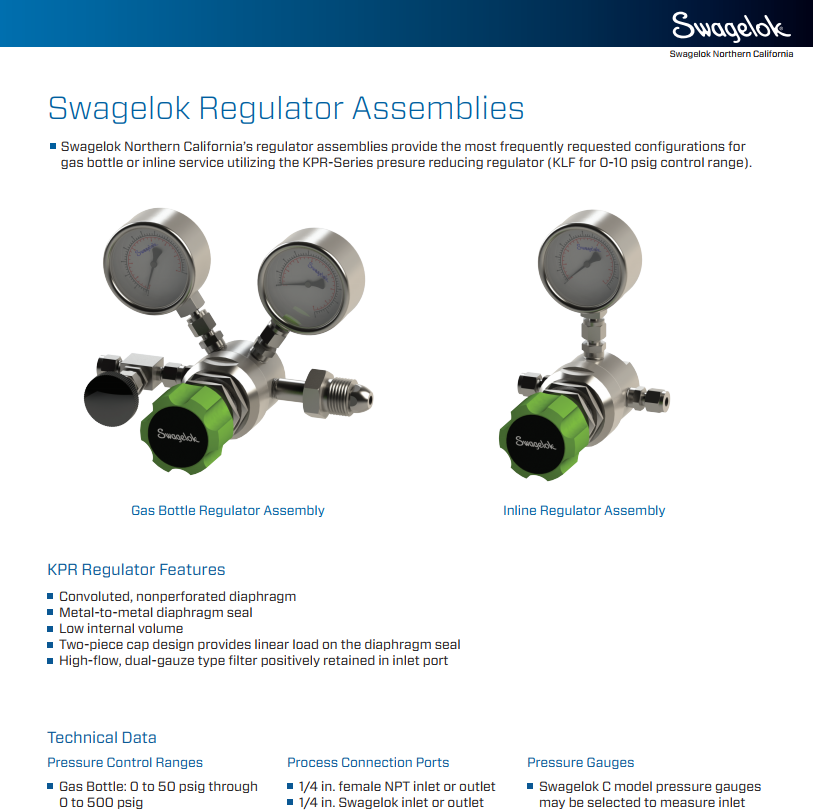 Swagelok Regulator Assemblies
Swagelok Northern California's regulator assemblies provide the most frequently requested configurations for gas bottle or inline service utilizing the KPR-Series pressure reducing regulator (KLF for 0-10 psig control range).
Pressure Control Ranges
Gas Bottle: 0 to 50 psig through 0 to 500 psig
Inline: 0 to 10 psig through 0 to 500 psig


---