Swagelok Northern California
Swagelok Northern California
Swagelok Hose Asssemblies
Choice of materials, sizes, features, end connections. Often with same day turnaround.
Tel:
510-933-6200
.
Swagelok Hose Built in the Bay Area
Here in Fremont, 25+ full-time certified hose technicians build thousands of hoses per year. All are tested, documented, and backed by Swagelok's industry-leading warranty. A video below shows an example. So when our customer receives a hose from us, all they have to do is install it. Any assembly can be assigned a unique SKU so that getting copies is easy.
Please use the button to start a job or get details, or call 510-933-6200.
Quality and speed
Swagelok Northern California offers hose and flexible tubing in precise lengths with end connections attached. We follow a documented quality process that includes professional analysis of the job, fabrication by Swagelok-certified hose technicians, testing, documentation, and delivery.
We offer quick turnaround times. We pull from about 20 million worth of Swagelok components in our Bay Area warehouses. We can handle custom fabrications from small and simple to large and complex -- many times on the same day you place your order.
Choice of materials, sizes, features
From ultra-flexible, smooth- bore, chemically compatible PFA hose to electrically conductive nylon hose for CNG, we build hose to handle from -325°F up to 1000°F; working pressures up to 5,000 psi. We can fabricate with metal PTFE, PFA, vinyl, nylon, polyethylene, and rubber core hoses; and flexible metal tubing.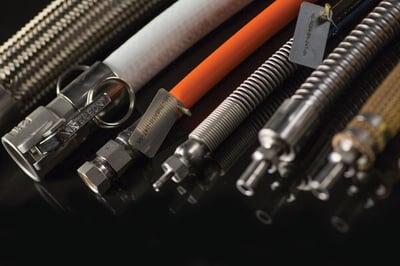 Precision lengths and assembly
Our CNC machine cuts hose faster and with 4x better accuracy than cutting hose by hand. When you need copies of the same hose, you can be sure that each one will be the same length. We are fully stocked with bulk hose, connections, protective covers, and tag options.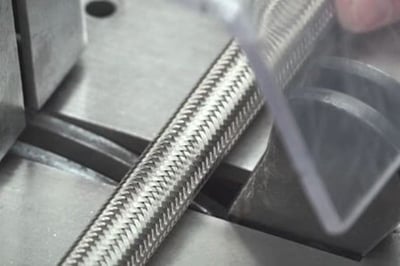 Customization options
We support advanced customization of hose assemblies. For example, we can install insulation on specialty hose where the tube wall is thicker on one side; or handle vacuum-jacketed hose. Tags help with asset management including type and material of hose fluid contents, installation dates, testing dates, maintenance schedules, and more.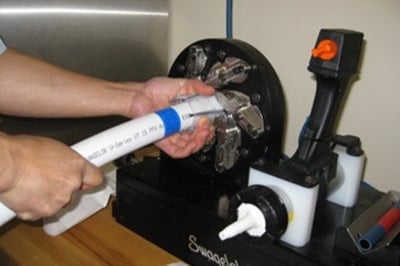 Swagelok quality control
If you need 50 identical hoses, we make the first one individually and check that it meets exact specifications before building hoses 2-50. Every hose is pressure tested and a pressure test certificate comes with each hose. In addition to standard testing, we can do helium leak testing, hydrostatic testing, nitrogen pressure testing, and pressure decay testing.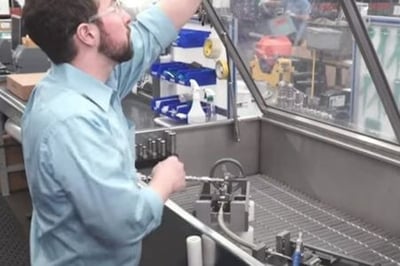 Benefits of delegating hose assembly
Given the wide variety of configurations available, specifying and fabricating hose may require special expertise. Safety is on the line, as well as quality of output, production uptime, and labor invested over years in maintenance, repairs, and replacement. Hose must be integrated with other components to suit an application. With that in mind, let's compare having Swagelok build hose assemblies to handling it in-house:
Professional design
No costly design errors. Our engineers know industry best practices and analyze design.
Professional design
Speed
In many cases our Assembly Services team can turn around a hose assembly the same day.
Speed
Product selection
We pull and assemble all and only the parts needed. No guesswork. No buying wrong parts
Product selection
No surprise costs
No surprise costs like needing to buy (or train on) specialized tools to achieve leak-tight assembly.
No surprise costs
Documentation
Testing is included. Documentation shows test results, components, materials of construction.
Documentation
Repeatability
Swagelok's Quality System ensures consistency. And we can give one SKU for a whole assembly.
Repeatability
What to expect
Generally there are four main steps in preparing a custom hose or flexible tubing assembly:
1. Needs analysis
If our customer is providing hose specs, we check to make sure results will meet requirements. If our customer needs help to specify hose, we step through factors such as size, temperature, application, material, pressure, end connection type.
2. Fabrication
Certified technicians handle fabrication, working in our Class 100 clean room if necessary. Swagelok assembly certification involves producing dozens of samples, each of which is inspected by Swagelok manufacturing engineers and put through destructive testing.
3. Quality Control
Every hose is pressure tested with water to ensure proper assembly and high performance. A pressure test certificate is then packaged with each hose. The rigorous assembly process and 100% testing ensures you receive a high-quality reliable hose.
4. Delivery
We clean and either cap or bag the hose to ensure contaminants are not introduced into your fluid system from the hose. Orders ship daily or customers can pick up in Concord, Sunnyvale, or Fremont. Same day turnaround is common.
We stand behind every assembly
Every Swagelok product, assembly, and solution comes with Swagelok's Limited Lifetime Warranty. Systems use Swagelok components, which are designed and manufactured to the highest quality standards. Per our documented quality process, fabrication is handled by Swagelok-certified associates. Swagelok assembly certification requires that every sample produced earns a grade of 100% from the Swagelok manufacturing engineers who inspect it and put it through destructive testing. Swagelok engineers and technicians re-certify every three years.
Swagelok Northern California is always reachable. Urgent need? Call 510-933-6200 and listen for "emergency service". This option is staffed around the clock, 24x7, every day of the year.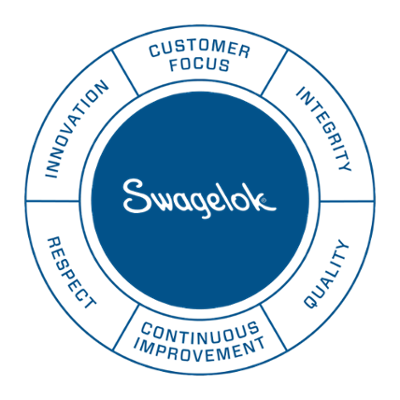 About Swagelok Northern California
Since 1963, Swagelok Northern California has provided thousands of manufacturers, processors, suppliers, and innovators with Swagelok fluid system products and expertise. Over 100 engineers, technicians, trainers, and other professionals make up our local team. With that expertise and $25M worth of Swagelok products in our three local warehouses, we are ready to help you run safe, cost-effective operations.
About Swagelok Company
Established in 1947, Swagelok Company is a global company headquartered in Solon, Ohio. It has 20 manufacturing facilities, 6 global technical centers, and a network of 225 sales and service centers in 70 countries employing thousands of associates.
Request Information/Support
Need details or a quote? We are ready to help.