Swagelok Pre-Engineered Subsystems
Easy to install and operate, field tested designs ensure optimum system performance, these subsystems offer the high quality and support you expect from Swagelok.
Use Swagelok pre-engineered and pre-assembled subsystems to create fully documented fluid sampling and control systems and bring efficiency and consistency to your operations without the worry of acquiring and assembling multiple parts. Scroll down for an overview of PrESS modules.
Ways to learn more
Just the facts:

Fill the form to get our literature on PrESS. No spam.

Get a hand: We offer fast, friendly help choosing subsystems: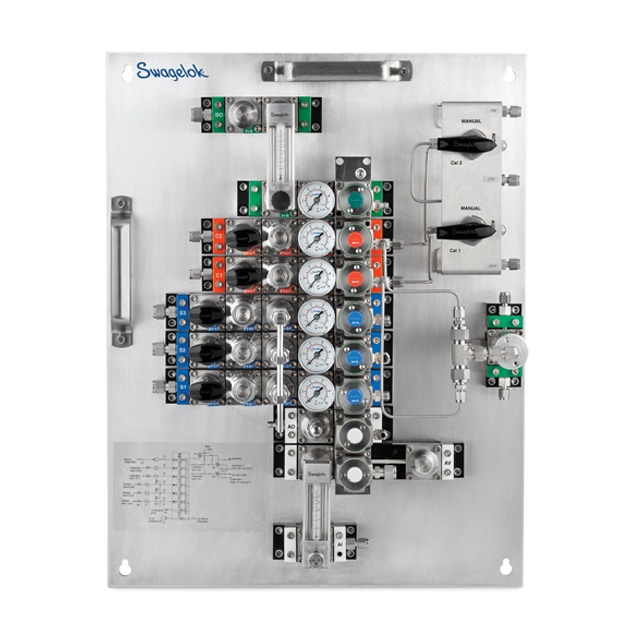 Calibration & Switching Module (CSM)
Swagelok's Calibration and Switching Module provides a discrete switch between multiple process samples and conditions and selects process streams for analysis. The CSM pre-conditions the sample by ensuring samples are inserted into the analyzer at the appropriate pressure, temperature, flow, and filtration levels. Integrated flow loop design ensures consistent delivery times to the analyzer across all streams and eliminates any deadlegs or chance for cross-stream contamination.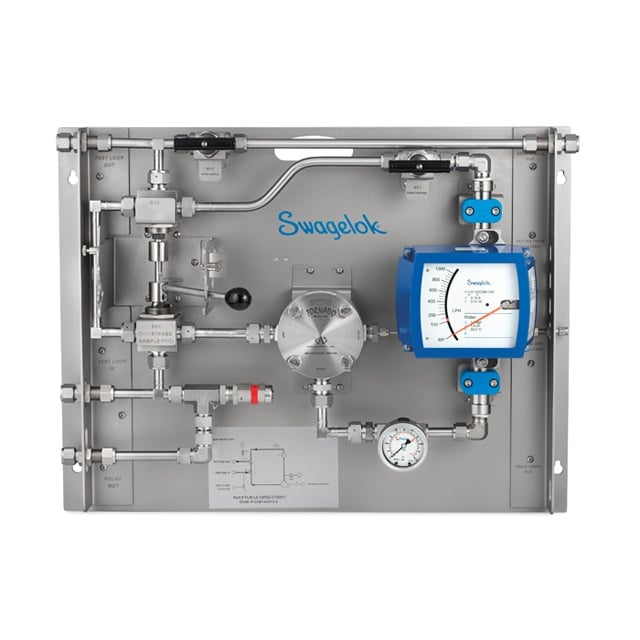 Fast Loop Module (FLM)
Fast loop modules (FLM) are designed to handle high flows and long transport lines from tap to analyzer to reduce time delays for online analyzer systems. The FLM easily isolates the sample system while introducing a purge gas for system cleaning, and extracts a sample through a filter while using the high flow rate to keep the filter element clean. The FLM minimizes pressure drop for fastest response time.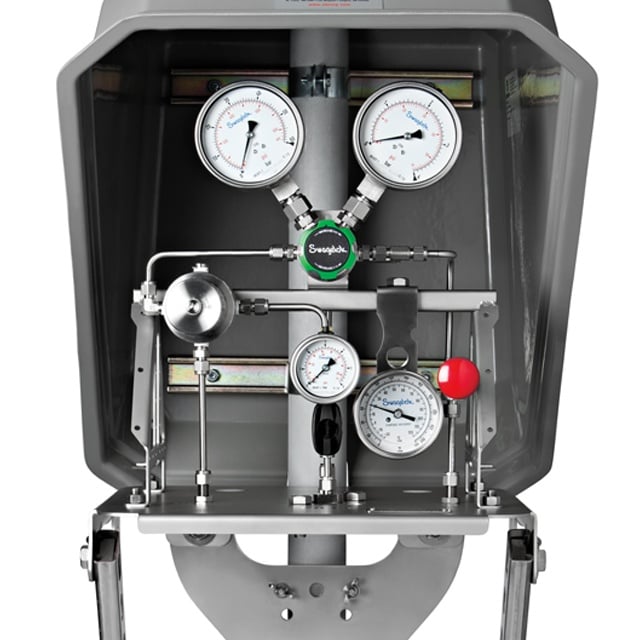 Field Station Module (FSM)
The Swagelok field station module (FSM) transports a pre-conditioned, reduced-pressure process gas to an analyzer. Preconditioning a gas sample at the extraction point and transporting the sample at low pressure results in faster analyzer response time, less condensation, and less environmental impact. The FSM mounts directly to process nozzles and is highly configurable to match process conditions.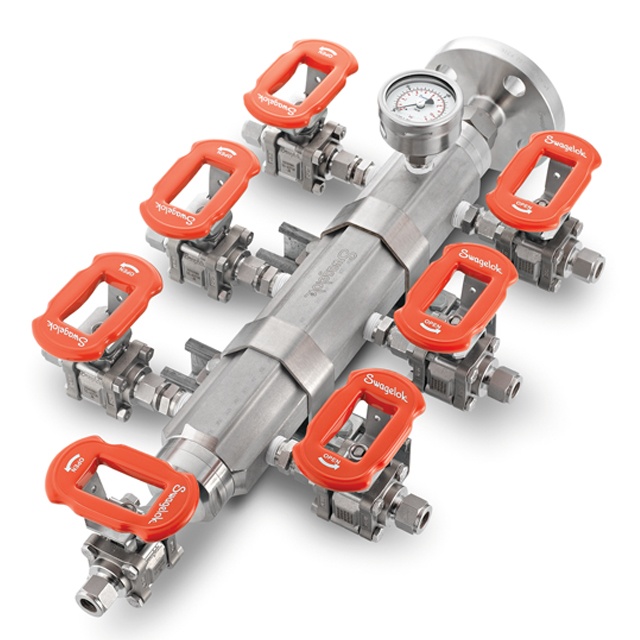 Fluid Distribution Header (FDH)
Fluid distribution headers are used as versatile manifolds in a variety of gas and liquid applications, providing a flow path with multiple outlets, similar to a large branch fitting. With an inlet on one end, a drain on the other end, and multiple outlets on either side, the Fluid Distribution Header uses Swagelok components for enhanced reliability. The unique body design with solidly mounted components eliminates twisting. Easily connect multiple Fluid Distribution Headers inline to create longer lengths.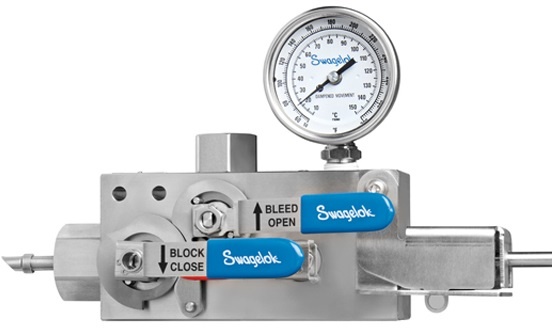 Sample Probe Module (SPM)
Sample Probe Modules measure the concentration of key components in gas and liquid streams to maintain precise process control. Using sample probes in conjunction with sample probe valves can improve safety as well as sample purity and timeliness. Probe interlocks protect equipment. Valve Interlocks improve safety of operation.
Technical Webinar: Swagelok PrESS
Technical webinar, featuring industrial process analyzer expert Tony Waters and Doug Nordstrom, Market Manager for Analytical Instrumentation for Swagelok Company. In it, they discuss the use of standardized subsystems for capturing, conditioning, and transporting process samples to analyzer systems, and how this approach can mean quicker installations, easier maintenance, better system performance, and lower cost of ownership.
---