Pocket Guide for Swagelok Hoses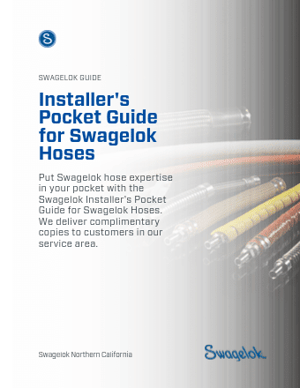 An Installer's Pocket Guide for Swagelok Hoses is slim enough to go in your pocket, yet packed with essential information. This printed 162-page pocket guide covers all the bases, including:
Applications in 25 industries
Materials specifications
Working pressures
Temperature ranges
End connections
Hydrostatic testing, tags, and other options
Handling and installation
Inspecting hose and flexible tubing
If you are in northern California or northeastern Nevada, we are happy to deliver a copy at no charge. Just fill the form to place your request, or call 510-933-6200.
If your company is located outside our service area, we forward your request to the Swagelok center nearest you. Availability varies at other locations.