Helping ensure sterile & sanitary environments for 40 years
Swagelok Northern California supplies California and Nevada biopharmaceutical, pharmaceutical, and biotechnology firms with the services and parts they need to maintain a sterile or sanitary environment—including parts that are easy to disassemble for cleaning.
Get more info. Fill the form to get Swagelok literature on our TS Series fittings and PFA hose.
---
TS Series Biopharm Fittings
Swagelok Northern California offers Swagelok's TS Series Biopharm FIttings for the Bioprocessing and Pharmaceutical Industries that virtually eliminate fluid holdup, improve drainability, enhance cleanability, provide easy assembly, and come in 1/2 through 4 in. sizes. Fill the form to receive the TS Series Biopharm Fittings catalog.
Sanitary Fittings
Tube fittings with sanitary flanges, sanitary gaskets, sanitary clamps. We can source them for you.
Pharma & Biopharm Steam System Optimization Seminar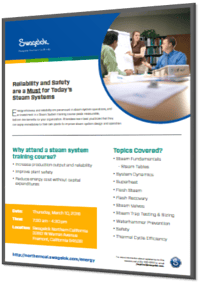 Pharmaceutical and Biopharm Steam System Reliability, Safety, and Optimization reviews all aspects of a pharmaceutical steam system and is designed to provide attendees with a solid understanding of steam system management including topics such as steam dynamics, steam balancing, utility steam use, CIP systems, clean steam generation, clean steam components, condensate piping, and steam quality. Attendees work in groups to accomplish different tasks relating to a steam system.
Swagelok PFA Hose
In a tightly regulated industry like biopharmaceuticals, plant operators can't change parts on a whim. Fortunately, Swagelok U series PFA hose has all the necessary FDA compliance, and documentation comes with each hose certifying the materials of construction, and the pressure testing. Swagelok PFA hose is highly flexible, with a smooth-bore PFA core that complies with FDA regulation 21CFR Part 177.1550, USP <87, 88> Class VI, and 3-A. An optional carbon black-filled PFA core is available for applications that require static dissipation. Swagelok Coreflex U series hose is commonly used where high flexibility, chemical compatibility, and a smooth exterior cover are desired. Fill the form to receive the Swagelok catalog that includes PFA hose.
Standard Swagelok products
Filters, fittings, hose, pressure gauges, quick-connects, pressure regulators, tubing, valves. You name it, we have it.
---
Get in touch
Fill the form to get more information. We value your privacy and protect your information.