A Swagelok training program brought to you by Swagelok Northern California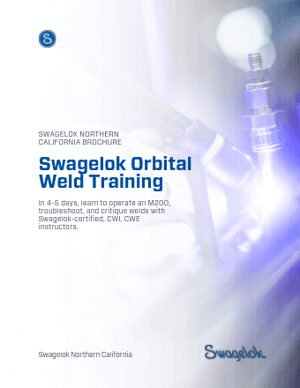 Because of the complexity involved in consistently achieving acceptable orbital welds, it is critical that welders obtain up-to-date and accurate training.
The Swagelok approach to learning the theories and skills of GTAW orbital welding includes comprehensive classroom instruction and valuable hands-on training. Our four-day course provides an understanding of welding principles, instructions for setup and operation; troubleshooting tips, and hands‑on experience.
The course is for welders with and without orbital welding experience, supervisors of orbital welding operations, engineers, and quality control pros. Join this intensive five-day* lecture-lab to:
Develop a thorough understanding of orbital welding principles
Learn how to operate the Swagelok Welding System
Earn a certificate of completion by passing two exams.
Prepare weld samples to test for ASME Section IX Qualification
*Fifth day is included at the end for participants preparing weld samples for ASME Section IX qualification.
Course objectives
Understand basic Gas Tungsten Arc Welding (GTAW) principles
Understand welding principles specific to the Swagelok M200 Weld System (SWS)
Know the proper set-up and operation for SWS
Know how to troubleshoot welding problems
Prepare weld samples to be submitted to ASME for Section IX Weld qualification (fifth day included in fee)
Topics covered
Setting up and operating orbital weld equipment
Programming the welding machine to run both basic and advanced operations
Troubleshooting and preventative maintenance procedures
Understanding welding industry specifications
Exam requirements
Participants must receive a minimum grade of 80 percent to pass the theoretical exam. To pass the practical exam, participants must demonstrate the ability to prepare and weld a tubing system according to a specific drawing without the aid of a facilitator or peer.
Instructor qualifications
All program instructors have earned the qualifications of Certified Weld Inspector (CWI) and Certified Weld Educator (CWE) and have a minimum of five years' experience in orbital welding instruction.
Class location
Unless otherwise noted, classes are at 3393 West Warren Ave in Fremont, CA.
Fees
$2,750 per attendee per course. Check our Events page for early bird pricing.
Your registration fee includes:
Four day lecture-lab
Fifth day test prep (optional)
Swagelok-certified instructor
Discussion + hands-on exercises
Swagelok Certificate of Completion
Reference workbook
User's manual
Tasty meals & snacks
Next steps
Just want to take the PDF brochure? Please fill the form on this page.
Ready to sign up? Click here to visit our Events page.
Interested in hosting a course at your facility? Other questions? Please give us a call at 510-933-6200 or message us.