Extend System Performance with Replaceable-Seat Diaphragm Valves
Swagelok's replaceable-seat, springless diaphragm valves enable easy and repeatable seat replacement while providing a seat seal that protects against chemical and thermal swelling and process chemistry degradation.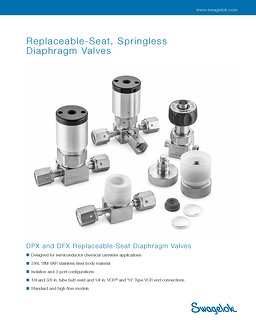 Specifically designed with the increasingly demanding purity needs of the chemical canister market in mind, these innovative designs extend the proven performance of Swagelok DP series and DF series valves.
Our guide to DPX and DFX Replaceable-Seat Diaphragm Valves includes comprehensive materials that offer:
Swagelok DPX and DFX Replaceable-Seat Diaphragm Valves Catalog
Seat Replacement Instructions
Other Unique Advantages of the Valves
Fill out the form on this page to access the complete information.