Scroll down for an overview. Fill the form to get details.
Customers use Swagelok U Series PFA Hose when they need ultra flexibility, outstanding kink resistance, chemical compatibility, and a smooth exterior cover.

Key features
Highly flexible PFA hose
Smooth-bore PFA core
302 stainless steel reinforcement ensures hose pressure containment and supports core to resist kinking
Silicone cover provides smooth, non-contaminating, easy to clean surface and insulation from internal system fluid temperature extremes
Hose layers are encapsulated together without adhesives or cements through a unique process, providing high flexibility and outstanding kink resistance
PFA material complies with FDA regulation 21CFR Part 177.1550, USP <87, 88> Class VI, and 3-A
Optional carbon black-filled PFA core is available for applications that require static dissipation
Custom hose lengths and end connections available
Options include hose covers and hose tags
Details
Materials—Core: smooth-bore PFA; Reinforcement: 302 SS braid; Cover: silicone; Collar: 300 series SS; End connections: 316 SS
Nominal Hose Sizes—1/2 to 2 in.Working PressuresUp to 300 psig (68.9 bar)
Temperature Range—Minus 65 to 400°F (–53 to 204°C)
End Connections—Swagelok tube fittings, Swagelok tube adapters, Male and Female NPT threads, sanitary clamps, tube butt weld, SAE 37° (JIC) female swivel, tube stubs, Male and Female Cam and Groove, VCR metal gasket face seal, female VCO O-ring face seal, ISO/BSP Tapered and parallel threads, ISO/KF Vacuum Flange, and lap joint flanges
Testing—Every Swagelok U Series hose assembly is pressure tested with air at room temperature for 30 seconds to a requirement of no detectable leakage. Testing is performed at 225 psig (15.5 bar)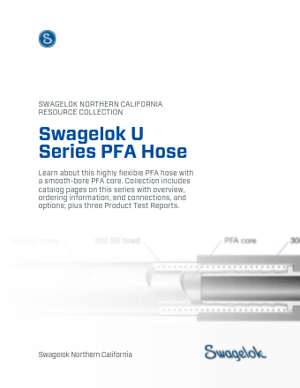 For access to the literature, fill the form on this page then check your email. You'll receive a handpicked collection of information on this product line, including Swagelok literature, ordering information, end connections, and options; plus three Product Test Reports.