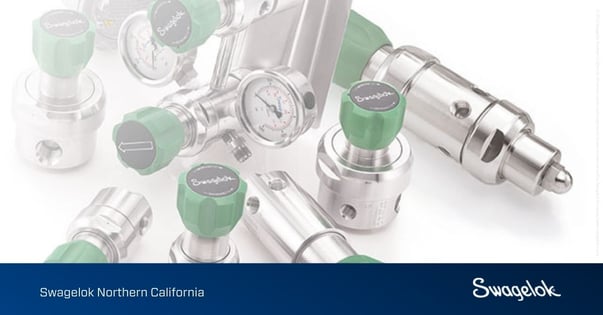 When designing a fluid system, choosing the right regulator is crucial. Proper selection for your application can significantly increase safety and efficiency. Take part in this conversation with our team of fluid system professionals that know what it takes to keep systems operating efficiently.

In this 30-minute Swagelok® Tech Talk plus Q&A, Swagelok Company's Field Engineering Supervisor, Brian Aplin and Field Engineer, Derrick DiCesare, will explore how to select pressure regulators in five clear and concise steps.

Throughout the presentation, they will discuss:
Pressures, temperatures, flow, and material compatibility

Upstream or downstream pressures
Lock-up, supply pressure effect, and droop
Spring-loaded versus dome-loaded pressure regulators and/or a mix of both
Filtration and safety valves
Please fill the form to access the video replay for Five Steps to Selecting a Pressure Regulator
About Brian Aplin,
Field Engineering Supervisor

, Swagelok Company

Brian began his career with Swagelok in the Sales and Service Center network as an Intern in 2009 supporting the University of South Carolina until the end of 2012. In 2013 he became a Custom Solutions Engineer. In 2016, Brian joined the Field Engineering team as a Regional Field Engineer supporting South Carolina. In September 2021, Brian joined Swagelok Company as Field Engineering Supervisor supporting the Americas Field Engineering Team.
About Derrick DiCesare,
Field Engineer

, Swagelok Company

Derrick began his career in 2005 as an engineer and sales specialist supporting the Vertical Integration initiative. Following multiple years of successful sales growth, he transitioned to manager of the program and helped train new engineers for the program. Derrick moved from Program Manager to a sales support role in 2015. This lead to a specialization in on-site technical engagements and his current field engineering position.
About Swagelok Company and Swagelok Northern California
Established in 1947, Swagelok Company is a global company headquartered in Solon, Ohio. It has 20 manufacturing facilities, 6 global technical centers, and a network of 225 sales and service centers in 70 countries employing thousands of associates. Established in 1963, Swagelok Northern California is a locally owned sales and service center for Swagelok. We serve 58 counties of northern California and northwestern Nevada. Give us a call at 510-933-6200.