A Swagelok training program brought to you by Swagelok Northern California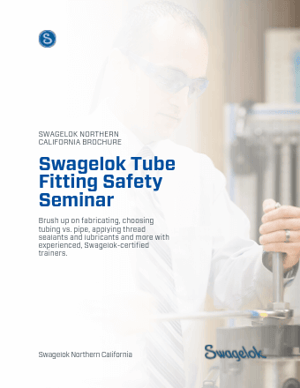 Many pros assemble tube fittings by feel, and that usually means under-tightened connections. Systems built that way can pass initial tests just fine, but start leaking months later — impacting operations, safety, and emissions.
This two-hour session teaches techniques to prevent most leaks. It is for anyone procuring, designing, installing, inspecting, or maintaining leak-free tubing systems or components.
Brush up on good fabrication procedures
Review tube systems vs. pipe systems
Practice with thread sealants and lubricants
Includes reference materials and lunch
Earn the Certificate of Completion
Who can benefit
This lecture-lab for anyone who procures, designs, installs, inspects, or maintains tubing systems. Participants have included:
Fabricators
Contractors
Technicians
Engineers
Draftsmen
Quality control experts
Safety engineers
Procurement pros
Topics covered
This 2-hour session teaches techniques to prevent most leakage. Topics include:
Evaluating tube fitting design & function
Tube selection, handling & fabrication
Tube systems vs. pipe systems
Installation methods
Safe plumbing practices
Applying thread sealants & lubricants
Hydrostatic burst test
Troubleshooting exercises
Spotting common installation errors
Class location
Unless otherwise noted, classes are at 3393 West Warren Ave in Fremont, CA
Fees
One course: $149 each
Two courses: $129 each
Your registration fee includes:
2-hour lecture-lab
Swagelok-certified instructor
Discussion & practice
Certificate of completion
Reference materials
Job aids that simplify fabrication
Tasty lunch
Next steps
Just want to take the PDF brochure? Please fill the form on this page.
Ready to sign up? Click here to visit our Events page.
Interested in hosting a course at your facility? Other questions? Please give us a call at 510-933-6200 or message us.