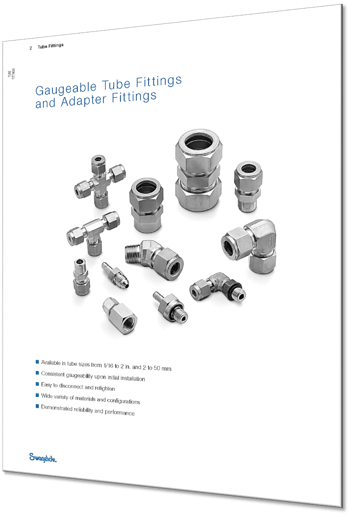 The 66-page Gaugeable Tube Fittings and Adapter Fittings catalog covers the materials, thread Specifications, O-Rings, cleaning and packaging, alternative fuels-type approval, metric Swagelok tube fittings, pressure ratings, and ordering numbers and dimensions.
Bonus: Also, get the 2 page Adapters Elbows and Tees catalog, 120 page Installer's Pocket Guide for Swagelok® Tube Fittings, and the Tube Fitting Wall Chart.
For information on SAF 2507 super duplex tube fittings, alloy 400 tube fittings, PFA tube fittings, medium-pressure tube fittings, or heavy-wall tube fittings, please visit our Swagelok fittings information page »
In a hurry or have a question? Please call our office at 510-933-6200.

For access to these resources, please fill the form on the right.