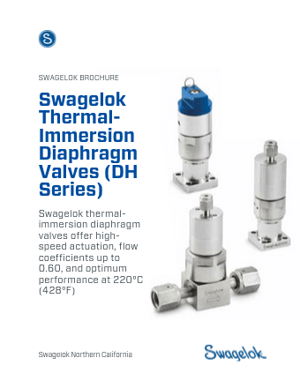 Swagelok thermal-immersion diaphragm valves offer high-speed actuation, flow coefficients up to 0.60, and optimum performance at 220°C (428°F) for high-temperature processes including atomic layer deposition (ALD) and precursor delivery applications. They are offered in both pneumatically actuated and manual models with a variety of 1/4 and 3/8 in. end connections.
Maximized flow capacity
Fully immersible at temperature
Normally closed pneumatic actuation means it's capable of valve opening or closing times of less than 5 ms; manual actuation with a lock-out handle; and fully contained high-purity grade PFA seat offers broad range of chemical compatibility and excellent resistance to swelling and contamination
Fully swept flow path minimizes entrapment and facilitates purging
For a closer look, fill the form then check your email.