System fabricators, contractors, and technicians will benefit from the hands-on installation exercises in this two hour lecture-lab.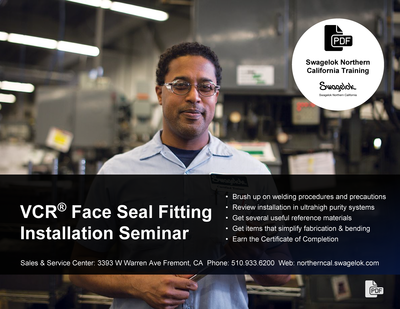 Engineers and draftsmen will sharpen their understanding of fitting functions, strengths, and limitations. And anyone who specifies or purchases high-purity gas system components will find the class informative.
Seminar agenda:
Brush up on welding procedures and precautions
Review installation in ultrahigh purity systems
Get several useful reference materials
Get items that simplify fabrication & bending
Reference materials and a tasty lunch
Earn the Certificate of Completion

Fill the form on this page to get the PDF brochure with all the details.
Help
In a hurry or need help? Call 510.933.6200 or please get in touch »