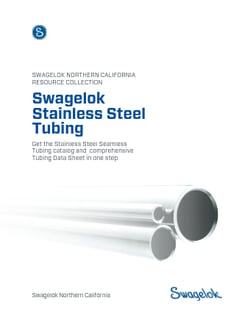 The Swagelok Stainless Steel Seamless Tubing catalog covers the material standards, chemical composition, ordering information, dimensions, and pressure ratings for 316 and 304 stainless steel seamless tubing available from Swagelok Northern California.
The Swagelok Tubing Data Sheet discusses tubing selection, tubing handling, tubing installation, and gas service; and safe allowable working pressures for a variety of tubing materials used with Swagelok tube fittings:
Carbon Steel Tubing
Stainless Steel Tubing
Copper Tubing
Aluminum Tubing
Alloy 400 Tubing
Alloy C-276 Tubing
Alloy 20 Tubing
Alloy 600 Tubing
Alloy 825 Tubing
Alloy 625 Tubing
Alloy 254 Tubing
Grade 2 Titanium Tubing
SAF 2507™ Super Duplex Tubing
All at Elevated Temperatures
Fill the form on this page to get the literature. In a hurry or have a question? Please call our office at 510-933-6200.
Tip: Need stainless steel tubing cut, bent, or joined? We can do that for you. Learn about our tube bending service.