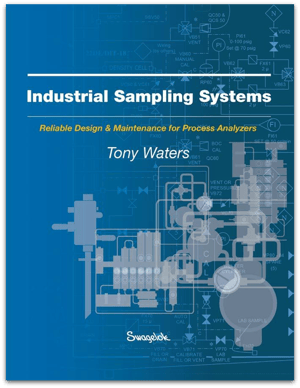 Sampling systems expert Tony Waters and Swagelok have created a comprehensive reference, Industrial Sampling Systems, covering the engineering involved with designing and operating a sampling system for a process analyzer.
The full book contains:
More than 750 pages of full-color technical content in a hardbound cover
Twelve chapters and three detailed appendices
A thorough index and easy-to-understand symbols library
More than 1,000 pictures, tables, and pieces of artwork, and much more
A copy of this book is included in the Swagelok Process Analyzer Sampling System training course led by Tony Waters and hosted by Swagelok Northern California.
To get a 36-page excerpt (PDF), fill the form then check your email.