Order this popular book by Tony Waters, published by Swagelok Company (744 pages, $320)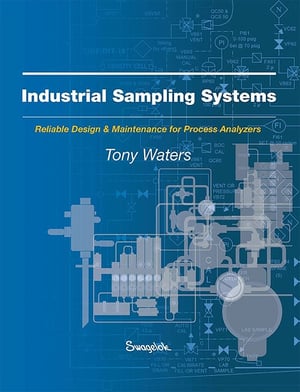 Tony Waters and Swagelok have published a comprehensive book covering the engineering involved with designing and operating a sampling system for a process analyzer. Preview it here.
Introduction to sampling
Principles of system design
Sample transport lines
Process sampling taps
Preconditioning the sample
Controlling sample flow
Controlling sample pressure
Sample temperature control
Change of state
Sample conditioning/disposal
Sample isolation
Switching systems
Future of process sampling
This book has:
750+ pages of full-color technical content in a hardbound cover
Twelve chapters and three detailed appendices
1,000+ photos, tables, and drawings

Please note! This offer is for companies in northern California or northwestern Nevada. *If you are located outside our service area, northern California or northwestern Nevada, thank you for your interest in Swagelok's products and services. Based on your geographic location, there is an authorized Swagelok sales and service center in closer proximity to your organization that may be better suited to serve you. If you would like to connect with your local sales and service center, you can find their contact information here: https://www.swagelok.com/en/locate-a-sales-service-center and enter your postal code. Price and availability may vary.
Pro tip: This book is the main text used in the Swagelok Process Analyzer Sampling System training course conducted by Tony Waters. Get details on the course hosted by Swagelok Northern California here. All course attendees receive a copy of the book.