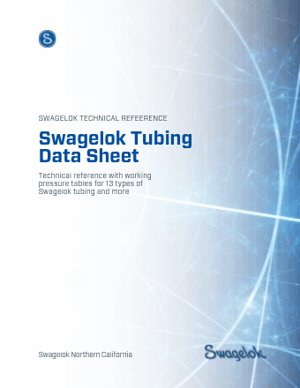 Want reliable tubing systems? Use Swagelok tube fittings paired with the correct Swagelok tubing -- ensuring all components are correctly selected, handled, and installed (training is available).
Fill the form to get the Swagelok Tubing Data Sheet with tips on:
Tubing selection
Tubing handling
Tubing installation
Gas service, and much more
This tubing data sheet contains suggested allowable working pressure tables for assemblies of Swagelok tube fittings with various tubing materials including, stainless steel, carbon steel, copper, titanium, and other alloys.
Fill the form on this page to request the Swagelok Tubing Data, then check your email for the PDF. In a hurry or have a question? Please call our office at 510-933-6200.
Tip: Need stainless steel tubing cut, bent, or joined? We can do that for you. Learn about our tube bending service.