Mining OEM designs Swagelok into its emergency air systems
Pillar Innovations' shelters withstand years of hard knocks, then deploy in a split second and sustain life for 96 hours. How?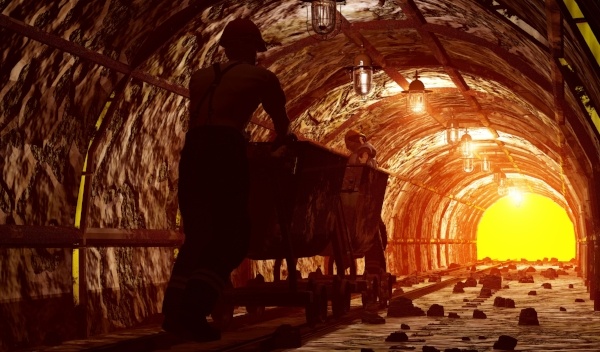 ---
The leak integrity of Swagelok products is especially important because this high-pressure application needs to be pressurized with a very minimal leak rate for a period of five years.
- Michael Bishoff, Mechanical Engineer, Pillar Innovations
---
In January of 2006, an explosion trapped 13 miners in West Virginia's Sago Mine for two days. One miner's emergency oxygen pack worked, and he survived the ordeal. The packs on the others failed. They breathed deadly levels of carbon monoxide and methane gas, and perished.
In the wake of this disaster, West Virginia passed legislation requiring all underground mines to have accessible refuge shelters. They approved five shelter designs, including Fresh Air Bay (FAB, or "the bay"), manufactured by Pillar Innovations LLC.
In a disaster, the FAB's 6,000 psig of compressed gas is triggered, inflating a shelter designed to sustain life for 96 hours. Each bay has an active CO2 scrubber, 4,500-psig medical-grade oxygen cylinders, and air delivery subassemblies such as its 6,000-psig purge system and 6,000-psig ventilation system. It also has water, first aid supplies, food, and a toilet.
Extreme conditions call for extreme reliability
Among the design and manufacturing challenges related to air systems:
After manufacture, a bay might move around mines for years. After all, miners move around and the bays have to be accessible. During that time, connections in the system couldn't leak.
Bays had to meet standards set by the National Institute for Occupational Safety & Health
The state had set short deadlines and the clock was ticking
This led to questions like:
Did Swagelok have the components needed for the air systems?
Were Swagelok connections leak-tight? What could they withstand?
What is each component made of? How consistent are materials?
Would supply be steady? What if Swagelok's suppliers were late?
Robust supply of Make to Stock products
Swagelok had the components needed for the air systems. The local Swagelok distributor was able to provide a variety of tube fittings, VCO O-ring face seal fittings, and tubing for more than 380 air system subassemblies.
We stock standard parts (Make to Stock or MTS) at 225 locations worldwide. In addition, we provide Assemble to Order (ATO) products and products designed especially for unique needs – Make to Order (MTO) and Engineer to Order Products (ETOP).
Our "One Swagelok" business model enables inventory management among all these locations, and every new order figures into the order history and planning for that location. Further, at our main assembly plant, we keep a large inventory of components so we can provide short lead times on Assemble to Order (ATO) products – a considerable investment that we make for our customers.
Leak-tight connections
Behind every Swagelok product, assembly and solution is the Swagelok Limited Lifetime Warranty—widely regarded as the industry's strongest.
We want our customers to have the perfect experience with every product. It works the first time. It's the same as the one before it, and the one after. It must deliver on our promise of safety and total peace of mind.
The same must be true of all of the services that surround the product – from quote input and labeling to shipping and delivery. The Swagelok Quality System (SQS) is a business management system enabling sales and service centers to systematically manage and improve processes throughout their supply chains.
Exacting materials standards
We buy our bar stock direct from the mills, and then in our own manufacturing plants we forge, machine, electropolish, weld, assemble, and test, among other processes. In other words, we own the manufacturing process from start to finish. This way we can control the maximum number of variables and ensure product quality.
Ensuring steady supply
With so much riding on our suppliers, we ask them to take extraordinary measures – in some cases, to keep their proprietary information in escrow – in others, to keep extra inventory on hand.
We take further precautions ourselves. For example, we keep significant amounts of raw materials on hand in case our supplier's own supply chains are interrupted. And we build in redundancies with multiple suppliers for the same product.
Delivering value
Fresh Air Bay was the only shelter found to comply with every test conducted by the National Institute for Occupational Safety and Health in its initial review of the five state-approved designs.
Although West Virginia is the only state currently requiring mining refuge alternatives, other states are beginning to add FABs to their operations, and Swagelok is proud to play a part in ensuring miner safety.
Michael Bishoff, mechanical engineer for Pillar, said, "The leak integrity of Swagelok products is especially important because this high-pressure application needs to be pressurized with a very minimal leak rate for a period of five years. The mine safety chambers are all about safety, reliability, and integrity. That's what makes Swagelok and Pillar good partners in this project."
You can get help like this too. Visit the Build It For Me page to learn more and get started. Or, view more case studies: