Team Icewave taps Swagelok for support before Battlebots
Need to flip over a 50 pound combat robot via remote control? We can help with that.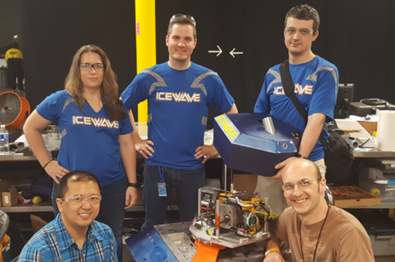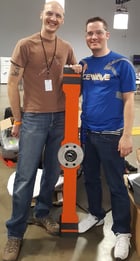 Recently the Swagelok Northern California team got the chance to take part in a robot battle. In March, our resident comic nerd and model-builder extraordinaire Victor Jung received a call from Marc DeVidts, co-founder and CTO of Double Robotics. This innovative tech startup, which makes telepresence robots for the commercial market, is home to Team Icewave, as seen on the popular TV show "BattleBots."
For those unfamiliar with the show, "BattleBots" is a combat robot gladiator event; people gather from all over the world to watch sophisticated remote-controlled machines fight it out in an arena-based elimination tournament. Team Icewave's bot uses a gas engine to drive a massive, 47-pound hardened-steel death blade, backed by a 360-degree field of mauling power.
Sounding board for a mechanical designer
Unfortunately, team Icewave's bot was eviscerated by Ghost Raptor in Season 1, landing upside-down with no way of righting itself.
In preparation for Season 2, Marc and the team's mechanical designer Angie Bamblett came to Swagelok Northern California seeking assistance.
They needed to add a high-pressure actuator system that would give the bot 2,500 psi of gas to flip itself back over if needed.
Robust local inventory helps outfit bot for battle
Victor pulled dozens of parts from Swagelok Northern California's inventory, experimenting through trial and error until everything fit together just right. For example, Victor and Neil Ide utilized special tube adapter fittings to create the perfect compact solution for Icewave.
With the work complete, Marc generously invited Victor and Neil to Los Angeles for the taping of Season 2.
Performing under pressure
On the day of the fight, however, he sent Victor and Neil an emergency text: Icewave had been slightly modified with a couple of anti-flip spikes on the front and would no longer right itself with the current gas pressure.
Victor and Neil quickly headed to the 60,000-square-foot builder's area to brainstorm a last-minute battlefield solution. Because the system used pre-charged N2 cylinders, they had no way of increasing the pressure.
After much deliberation, they decided to use 4,500 psi high-pressure gas bottles to charge the bots on-site and put an extra 500 psi in Icewave's gas cylinder. They grabbed the extra fittings and added a fill line to the already crowded engine compartment.
Before overcharging the cylinder, however, the on-site safety manager had to greenlight the modification. They cut an empty cylinder in half to establish the wall thickness and ensure that the extra 500 psi would be sustainable.
Referring to the wall thickness and Swagelok's data sheets on tubing diameter and wall thickness versus gas pressure, they determined that the carbon steel cylinder could easily handle 3,000 psi.
Assembly and reassembly
The excitement didn't end there, though. After charging up the system, they realized the only solenoid valve, a high-pressure aerospace switching valve sourced from eBay, was leaking gas! At that point, so close to the action, it looked like it was "game over" for Team Icewave. But Victor and Neil refused to give up. They tore down the valve and cleaned all of the seals and various components. But after reassembling it for testing, the coil wouldn't power on at all.
Upon inspection, they discovered that they had completely broken one of the coil's electrical wires out of the epoxy potting. Feeling the nip of defeat at their heels, they doubled down again, smashing the epoxy open with a pair of pliers to expose the magnet wire and painstakingly locating the broken lead. they soldered the connection back together and reassembled the valve. They installed it on the gas cylinder for a midnight test, and, much to our excitement, found that the rebuilt valve worked perfectly!
Delivering value to Team Icewave
The next morning, Victor and Neil had the privilege of grabbing seats right behind the judges for an unbeatable view. Nearly every "BattleBots" fight ended in a fire from shorted-out robots and pulverized lithium batteries. After an intense, action-packed day, they packed up and drove back to the Bay Area, sleeping in shifts.
The Swagelok Northern California team was proud to have played a part in this exciting competition, working around the clock to ensure Icewave's bot was prepared for battle. We knew critical fluid systems technology was used in a wide range of engineering applications, including particle accelerators, power plants, refineries, semiconductor factories, wineries, fuel cell laboratories, and even hydroponic medical marijuana grow houses — and now, we can add "BattleBots" robots to the list.
Swagelok is not just a valve and fitting company; we proudly serve as a critical process solution partner and are ready to do whatever it takes to solve your unique challenges.
You can get help like this too. Visit the Build It For Me page to learn more and get started. Or, view more case studies.