National Lab meets tight deadline with help from Swagelok Northern California
With Assembly Solutions, design help, and big local inventory, customer gets testing solution just in time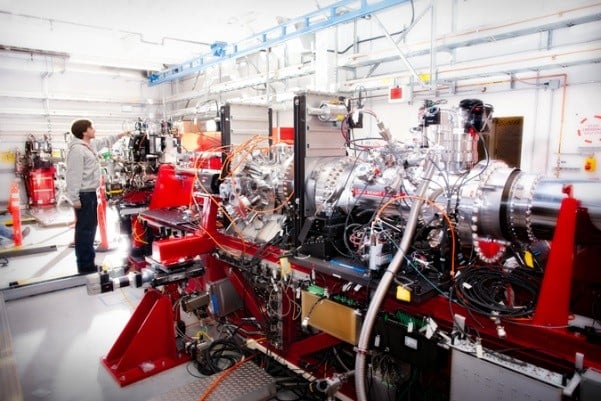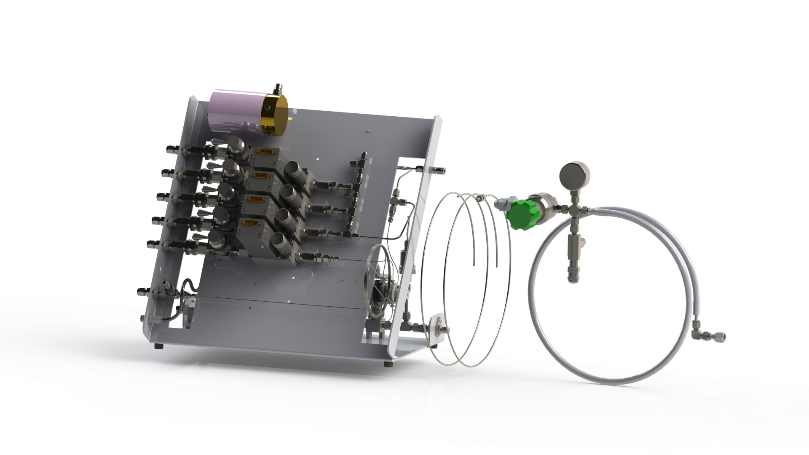 In physics research and laser-based experimentation and development, complex systems are needed to support data collection, testing, and operations. Efficient, carefully calibrated gas flow management panels are just one critical component to these sophisticated assemblies.
The lab in question for this project is home to an international community of researchers, with experiments booked for years in advance. A disruption in service could set research work back for years, and an experiment date with the lab's one-of-a-kind laser facilities is very precious. These are not appointments to be missed.
The national lab team were trying to figure out how to build a test apparatus for a beam date at the lab: they had the photo reactor base for their chemical research project, but nothing else. Their beam time was in just 16 weeks; we needed to develop a testing solution, and fast.
So they reached out to Swagelok Northern California with questions like:
How quickly could our engineers start helping on design?
Did we have the inventory to supply them by beam time?
Could we deliver a ready to use test apparatus, or just parts for them?
Would designing and building a custom test apparatus be expensive?
On-demand engineering assistance
Swagelok specialists immediately traveled to meet with the team and sketch out potential solutions. We worked from the ground up, starting with initial sketches to support the researchers' needs and vision.
Swagelok Assembly Solutions customers receive:
As much time as they needed to discuss the solution
Design assistance and design optimization
CAD drawing
Component selection and bill of materials
Bending, welding, and assembly by certified technicians
Testing and warranty of the assembly
Professional packaging and delivery
One Swagelok® speeds fulfillment
Swagelok is a $2 billion company with approximately 5,400 associates, 20 manufacturing facilities, 6 global technical centers, and a network of 225 sales and service centers in 70 countries employing about 3,600 sales and service associates. Swagelok Northern California is the sales and service center serving 58 counties of northern California and northwestern Nevada.
Swagelok Northern California ships over 1 million parts per year from our Bay Area warehouse, and has a 99% ship-to-promise track record. Customers can order from 600,000 individual part numbers for fittings, hoses, leak detectors, measurement devices, regulators, tubing, valves, welding systems, and more.
Delivering a ready-to-use test apparatus
Our team developed a basic test bench gas panel that incorporated remote controlled pressure regulators, a 6-way switching valve to manage volume calibration, calibrated volumes, and a series of mass flow controllers. With solid teamwork, we were able to develop the supporting CAD to create four unique assemblies for the project.
After settling on an ideal configuration, the team even worked to set up control solutions and Data Acquisition tools that could perform in the lab's irradiated environment. Our specialists delivered the custom equipment directly to the beam line on the day before testing was to be executed.
Delivering value to the scientific community
We trained the researchers executing the experiment right on site, and provided all the tools and information they needed to get the seemingly impossible job done.
Innovation is essential to the team here at Swagelok Northern California, and we're proud to provide solutions to the scientific community that help to push boundaries. From sourcing ideal parts to drafting CAD to developing brand new systems, we offer solutions for any project.
Our team strives to offer improved efficiency, flexibility, and innovation to customers in specialized industries of all kinds. Peace of mind and problem solving? That's just what we do.
You can get help like this too. Visit the Build It For Me page to learn more and get started. Or, view more case studies: