BattleBots Part 2: The Pressure Is On For Team Icewave
by Neil Ide, on 3/29/17 8:30 AM
Improvising, smashing parts, and even a police chase factor into a plan for victory
---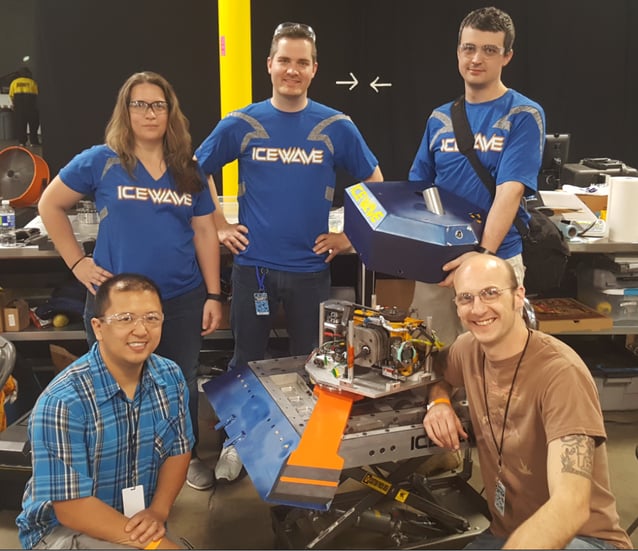 We intended on only watching Team Icewave compete in BattleBots, but when we got there we were able to go behind the scenes and help troubleshoot some fluid system challenges.
---
Anti-flip spikes
In Part 1 of our BattleBot story, we described how Victor Jung and I traveled from Swagelok Northern California to Los Angeles to get Team Icewave on track for the TV show "BattleBots." We had a car full of junk food, energy drinks, and various fluid system components from our Swagelok Northern California warehouse.
It was only after we got there that we learned that Icewave had been modified with some anti-flip spikes and could no longer right itself with its original system of pressurized gas. We determined that we had to up the pressure by 500 psi in Icewave's gas cylinder for everything to work. But could the cylinder handle it?
By using the wall thickness and Swagelok's data sheets on tubing diameter and wall thickness verses gas pressure, we were able to determine that the carbon steel cylinder was more than enough to handle 3000 PSI.
Hey Everybody, Swagelok is here!
The onsite safety manager (who was the coolest safety manager I've ever met) gave the green light for the modification. Since Victor and I had finished our part, I was worried that we'd be kicked out of Shangri-la (i.e. the builder area). But instead of getting booted, I heard someone shout, "Swagelok's here everyone!" and next thing I knew I was advising half a dozen teams on their bots for safety and system performance.
As the Battlebots show had only recently started allowing flame systems for combat, they were being built from some of the cheapest components imaginable and there were leaks galore. I was getting called left and right to give advice. But I couldn't spend much time with them because Icewave needed my full attention again. Our mod would not be so easy.
Rebuild on the fly
After we charged up the system, we realized that our only solenoid valve, a high-pressure aerospace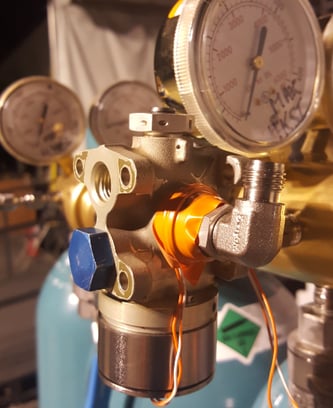 switching valve sourced from eBay, was leaking gas! At that point, so close to action, it looked like game over. But we refused to give in. During my Navy service aboard the USS Los Angeles, we'd make repairs at sea using whatever we could get our hands on to do the job. That's what we did this day for Icewave. Victor and I tore down the valve and cleaned all of the seals and various components, with pretty much no idea what we were doing. After we reassembled it for testing, the coil wouldn't power on at all.
Upon inspection, I discovered that I had broken one of the electrical lead wires to the coil completely out of
the epoxy potting. Once again, we felt the nip of defeat at our heels. But instead of accepting it, we doubled down!
I smashed the epoxy open with a pair of pliers to expose the magnet wire and Victor painstakingly located the broken lead, then we soldered the connection back together. We re-assembled the valve and installed it on the gas cylinder for a midnight test. I figured we had only a 5 percent chance of success. To all of our amazement the rebuilt valve worked!
I heard someone shout, "Swagelok's here everyone!" and next thing I knew I was advising half a dozen teams on their bots for safety and system performance.
Back for more
The next morning we returned to the lot and went straight to the builder area. During the previous day's valve rebuild, mechanical designer Angie Bamblett of Team Icewave had located the valve dealer only about 30 minues away. Team Icewave now had two extra valves in much better condition and swapped one of them into the bot. Vic and I were thankful that our rickety repair job didn't have to see combat! From that point onward we mostly stayed out of everyone's way just basking in the sheer amazingness of the experience
A few hours later Vic and I were standing just outside the builder area near a test cage with 2-inch steel beams and polycarbonate panels . This is where builders test bots without fear of maiming anyone. As we watched Icewave being tested, we noticed a police helicopter circling overhead. Suddenly, the area around the studio was awash in sirens. Security was closing the gates on the lot. A good old fashioned Los Angeles police chase was unfolding!
Seats and Savage selfies
With the lot closed, about a third of the live audience was stranded outside in chase traffic. The stands in the studio were looking pretty sparse. The studio production team asked that all builders and sponsors not involved with critical activities to go to the studio to fill out the crowd. Reluctant to leave Shangri-la, Victor and I nevertheless headed to the studio and grabbed seats right behind the judges. We did not utter one forlorn sigh once we realized what a view we had.
Every BattleBots fight pretty much ends in a fire from shorted out robots and pulverized lithium batteries. During one of the larger fires, Victor went down to say hi to Fon Davis and Adam Savage. The next thing you know the whole crowd was lining up for autographs and pictures, including myself (I fanned-out hard. Yes, Adam Savage is the coolest guy ever!) With the day complete and something…something…oh yeah, responsibilities waiting for us in Fremont, we packed up our candy, energy drinks, jerky and coffee and drove back to the Bay Area, sleeping in shifts.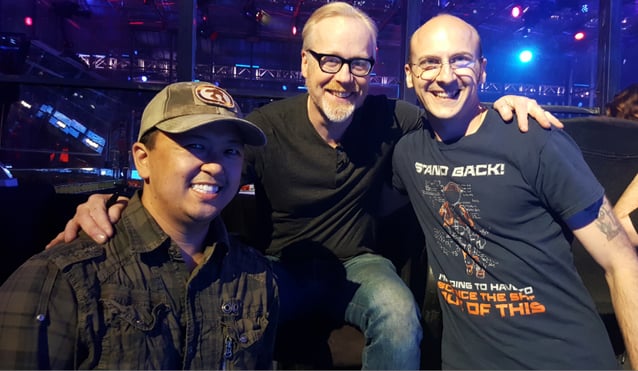 Thank yous
Marc, Angie, Andrew: We can't thank you enough for such an amazing experience and the chance to have a taste of what it's like to compete in BattleBots. And Rod, thank you for funding the trip!
I joined Swagelok because I knew that critical fluid systems technology is used in many of the greatest engineering endeavors: particle accelerators, power plants, refineries, semiconductor factories, wineries, fuel cell laboratories, even hydroponic medical marijuana grow houses. And now, BattleBots!
Swagelok is not a valve and fitting company, Swagelok is your critical process solution partner and we are ready to do whatever it takes to help you solve your challenges.
---
additional resources
---
get in touch
In a hurry or have a question? Please click here to get in touch - we respond fast! Or call 510-933-6200.
---