Q&A: Building sampling systems with PrESS
by Mark Petures, on 8/2/12 8:00 AM
Customization, lead time, and use of non-Swagelok® components in Swagelok pre-engineered subsystems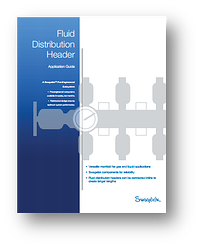 Download catalogs »
At our technical briefing in July we explained how plants and facilities can save time and money by making use of Swagelok's five available pre-engineered subsystems (PrESS). For use in all types of plants and facilities where fluids are being processed, the subsystems help create fully documented fluid sampling and control systems and bring consistency to plant and facility operations. Specifically, use of standardized subsystems for capturing, conditioning, and transporting process samples to analyzer systems can mean:
Quicker installations
Easier maintenance
Better system performance
Lower cost of ownership
After the briefing we had our experts stick around for a question-and-answer session. Here is a summary of those questions and answers.
Q: If we want to customize one of the pre-engineered subsystems, is that possible? If so, how would we go about specifying the customization?
A: Yes. Swagelok's custom solutions group can easily customize a PrESS module. We process these requests by taking a standard PrESS module that most closely matches, and modifying to meet the customer's application.
Simply work with your sales representative on your specific system requirements, and he will provide you a customized quote.
Q: What is a typical lead time on a fast loop module?
A: About four weeks for all catalog PrESS units, including the fast loop module. When you order, we get the parts from inventory and assemble the unit.
Our goal for customized PrESS is six to eight weeks to allow for engineering time, but lead time on customized PrESS depends on the nature of the customization.
Q: Can we specify non-Swagelok components if needed?
A: Usually, yes. We cannot change all components included in the module. Swagelok will include other manufacturer's components for non-core products, such as rotameters and gauges. We won't substitute competing parts for core Swagelok products, such as fittings and ball valves.
Next steps
Download more information: Get the PDF catalogs on Swagelok® pre-designed and pre-engineered subsystems.
Start optimizing: Talk with us about applying pre-designed and pre-assembled subsystems at your facility: 510-933-6200.
About Mark Petures, Account Manager, Swagelok Northern California
Mark has 20+ years experience helping customers find solutions for critical gas and liquid system applications.