How Swagelok Northern California is Getting More Social
by Rod Fallow, on 6/12/13 12:48 PM
Jeff Hopkins makes sure we show up wherever customers want to find us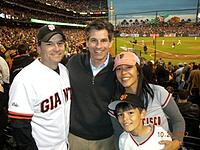 Jeff Hopkins at Game 1 of the World Series this year with his wife and oldest son (tickets courtesy of his brother, center, a Dodger fan).
A lot of companies have latched on to the idea of social media in the past few years. They aren't always sure exactly why it's good or how to use it, but they've jumped in with both feet. Swagelok Northern California took a more focused approach. We turned it over to someone with a history of identifying customer needs and seeing that they are satisfied: Jeff Hopkins.
His official job title is Marketing and Communications, but unofficially he's our Company Evangelist and Customer Advocate. Hopkins is responsible for directing our marketing and communications activities and for quickly connecting new customers with the right people and resources at Swagelok Northern California. "Jeff Hopkins" is the byline you usually see here on our blog. He also makes sure Swagelok Northern California can be found on other venues, including Twitter, Facebook, Google+ and LinkedIn.
It's important to be in all those places because many of you are in those places, and each person has a preference. Right now you are reading our blog, but someone else might prefer to learn about us on LinkedIn. They'll see news about the blog, basic information about Swagelok Northern California, and how their own LinkedIn contacts are connected to us. Many of our staff members have their own individual profiles on LinkedIn.
But if people prefer Facebook, that's fine with us. We're there too. We try to be anywhere that our customers feel the most comfortable meeting us. (That includes our brick-and-mortar office, by the way.)
Hopkins has talked about his family before on this blog. We thought you'd like to know a bit more about him as an individual. He earned a bachelor's degree in Law and Society from the University of California at Santa Barbara, and got a real feel for customers by working as an assistant manager for Enterprise Rent-A-Car. He later sold cars wholesale for eight years.
When he joined Swagelok Northern California in 2005, we saw that he was a quick study at identifying customer needs, and is dedicated to customer service.
"A few years ago I got interested in regulators, and came up with a couple of custom assemblies that we could market," Hopkins recalls. He went to Swagelok headquarters in Ohio for special regulator training, and is now one of our go-to experts.
"I am also part of the team that handles customers technical calls," he says. "When customers ask questions about our products that our front line customer support team cannot handle, they look to me and our technical support team for the answer."
Work and family take up a lot of his time, but Hopkins has been plugging away at yet another achievement, a master's degree in Biblical and Theological studies.
If this blog is the only place you've seen his social media posts, please check out some of the others by clicking on the sites above.