How to Improve API Plan 682 Arrangements for Better Rotating Equipment Reliability
by Morgan Zealear, on 9/1/21 9:00 AM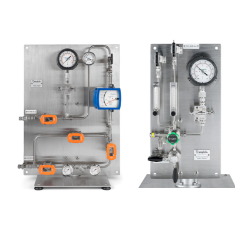 Mechanical seal failures are one of the most common causes of unplanned outages, but you can avoid pump failure and the costs of repairs and downtime with good seal support system design and installation practices.
Swagelok offers many options for improving seal support system reliability, from simple fittings that reduce leak points to full panel design and installation. This webinar will introduce some of Swagelok's seal support products and services for improving rotating equipment reliability, including examples of fittings, panels, and skids for a variety of API 682 plans.
What You Will Learn:
Most common causes of seal support system failures
API tubing recommendations
Common issues with specific API plans
How fittings can cause leaks and failures
How to reduce potential leak points
How to prevent clogged orifices
Safe thermowell installation solutions
Safe seal pot filling solutions
Basic seal support system design principles for safety, reliability, and ease of maintenance
Topics Covered:
Why Pumps Fail
Types of Mechanical Seal Support Systems
Overview of API 682 4th Edition
Overview of Swagelok Seal Support Systems
Swagelok Fittings and Orifices
New Installation Considerations
Seal Support Panel Arrangement Examples
General Safety Improvements
Installation Kits
Configurable CAD Files
Who Can Benefit:
Fabricators
Contractors
Technicians
Engineers
Draftsmen
Quality personnel
Safety personnel
Next Steps
Interested in this webinar? Sign up here, and be sure to sign up for weekly updates of our blog so you won't miss any future events.
To find out more about how Swagelok Northern California can provide quick solutions to all your seal support system needs with local, onsite support, contact our team today by calling 510-933-6200.