Top 5 Orbital Welding Training Benefits for Industrial Facilities
by Malik Durojaiye, on 1/5/22 9:00 AM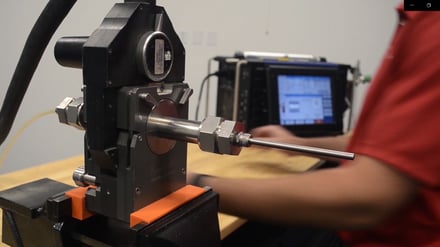 Welding is an integral component of manufacturing in many industries. Just some of these many industries include oil and gas production, biotechnology development, pharmaceutical development, food and beverage equipment production, electronic manufacturing, chemical research, aerospace development, semiconductor manufacturing, and nuclear piping. And yet, having enough welders on hand poses challenges in the manufacturing process. Skilled manual welders take years to master their craft and, if additional welders are needed, it can be hard to find welders to employ. Manual welding often creates bottlenecks in the manufacturing process as each weld requires careful hand movements and timing to create a straight weld that accounts for the different materials involved in manufacturing. The need to weld in tight spaces further slows down manufacturing.
Orbital welding and, by extension, training employees to orbital weld, provides significant benefits to solve these problems. We will discuss these benefits in-detail below and suggest a high-quality training course for employees to quickly master the skills of orbital welding.
The Top 5 Benefits of Orbital Welding Training
The solution to production inefficiencies from lack of welders is simple: train employees to orbital weld. Developing the skills of orbital welding is much faster than developing manual welding skills as training can be completed in as little as a few days. Orbital welding training can solve the need to quickly employ additional welders. Further, the welds in orbital welding are being completed by machines, providing high-quality welds at a fast pace that can be utilized for automated production. Orbital welding has also been shown to produce a more reliable weld that can be done when space is limited and in difficult conditions.
The benefits of orbital welding produce better and faster welds that meet certification standards and increase production efficiency while limiting costs offset the initial investment; let's see how.
1. Faster Time to Mastery
It can take years to perfect manual welding techniques. The temperature and time on each segment on a weld needs to be perfect for the material being welded. The welder needs to maintain a steady hand to limit imperfections in the weld and this weld needs to be maintained as an object bends and curves. Components with tight spaces are also problematic and require welding to be a factor in design decisions.
In comparison, orbital welding can be mastered quickly. After quality training, an orbital welder can successfully program welding for four or more welding levels, control welding speed, and be able to adjust amperage to get uniform welds. In addition, orbital welding machines can be used on pipes that cannot be rotated practically, allowing for more functionality than manual welding. And, orbital welding also helps prevent many of the issues that occur with manual welding—such as human error and poor welding penetration.
Training for employees to become productive orbital welders is less time-consuming, ultimately less costly, and provides staff with a modern manufacturing skill that will be useful for today and the future in a range of conditions with a variety of materials and designs.
2. Increased Number of Employees Skilled to Weld
Skilled welders are hard to find and workloads for welders can often become greater than can be handled. As such, having an option to quickly train employees to weld is essential. Due to the lengthy and high learning curve of manual welding, there is often a continual need for welders in manufacturing. By utilizing a local training course, employees can be quickly trained to weld and employers can have many skilled workers to fulfill welding needs.
3. High-Quality Welds and Certification Standards Met
Orbital welding allows for welding in hard-to-fit spaces and, if programmed correctly, can accurately weld around curving design patterns and multiple types of materials. And, it doesn't face many of the same welding inconsistencies as seen in manual welding; whereas manual welding faces issues with overworking welders who may become tired or distracted, orbital welding utilizes machines that are preprogrammed to complete the weld. By utilizing machines to do welds, welds are more consistent, and the risk of manufactured components being recalled due to welds is significantly less. Orbital welding also produces welds that meet ASME BPE acceptance criteria with a consistent bead size and full penetration to create smooth surfaces.
Orbital welding also has characteristics that can be specifically beneficial to prevent defects and recalls in certain industries. For instance, because orbital welding is done by machine, it prevents microbiological growth, and this can be particularly important in pharmaceutical and food production. Another example can be seen in industries that need a long pipeline that can withstand high pressures and temperatures. Orbital welding makes high-quality uniform welds that do not have a weak point and can successfully join straight long pipes and prevent leakage in those pipes—particularly important in oil and gas lines as well as nuclear pipelines. Orbital welding is also not affected by harsh weather conditions, space restriction, lack of visibility, or the presence of radiation. In addition, it can be utilized for welding when the welded object is unable to be rotated.
4. Increased Efficiency and Remote Capabilities
Having staff trained in orbital welding is not only beneficial for manufacturers but reduces the workload for welders. Whereas manual welding requires the same level of work and concentration when manufacturing similar components, orbital welding allows the operator a reduced workload for the same manufactured components. In these situations, if employees are properly trained, the programming will only need to be entered once for the manufactured component. Thus, welding can be automated and reduce welder workload. Additionally, orbital welding training can teach staff how to set up orbital welding remotely. This provides an additional level of safety for employees and flexibility in weld operation. Orbital welding will also automatically record weld documentation and history, allowing for ease of identifying plant operational issues.
5. Increased Competitiveness and Annual Cost Reduction
Though there is an initial cost for setting up an orbital welder and for training staff, this cost is minimal compared to the long-term savings from having a well-trained staff in orbital welding. Absences (due to sickness or scheduled personal days) of skilled welders can cause a massive production bottleneck. By having multiple staff members who are skilled in orbital welding, these production inefficiencies can be avoided. Further, understanding how orbital welding can be done remotely will also give flexibility to employees. Additional cost reductions come from limiting defects in welding and increased speed and accuracy of welds.
To prepare your manufacturing plant for orbital welding, it's imperative to have a well-trained staff. Further, having a local training program will provide easier access for new staff to be trained. And, as technology advances and techniques evolve, it can be beneficial to have an established and reputable company nearby to contact for support.
Swagelok Offers Top Tier Orbital Welding Training
Swagelok's orbital welding training program is a five-day course that covers all orbital welding learning needs. The instructors have Certified Weld Inspector (CWI) and Certified Weld Educator (CWE) qualifications and five years of experience in orbital welding instruction. By taking this course, staff will be able to program and operate an orbital welding machine and weld diverse types of materials with unusual shapes and designs. They will be able to troubleshoot orbital welding issues and test for ASME Section IX qualification if participants need to fulfill QA/QC requirements.
After training, staff will be able to effectively set up and use Swagelok's M200 orbital welding system and set up remote functions. Swagelok's M200 Orbital Welding System is precision-controlled through an easy-to-use touchscreen. The welds produced by this welding system are reliable orbital gas tungsten arc welds (GTAW).
To register for the course, sign up online and have your local authorized Swagelok
sales and service center
follow up with full details.
To find out more about how Swagelok Northern California can help you with your orbital welding training needs, contact our team today by calling 510-933-6200.
---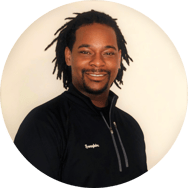 About Malik Durojaiye | Field Engineer, Assembly Services
Malik Durojaiye began his Swagelok career in 2019 as a Custom Solutions Engineer in our Assembly Services group. Prior to Swagelok, Malik developed as a design engineer as well as a manufacturing engineer for 6 years serving Kentucky and California with Altec Industries; a leading provider of products and services to the electric utility, telecommunications, tree care, lights and signs, and contractor markets.