Your Analyzer Requires a More Accurate Fast Loop Calculation: Considerations That Come Into Play for Older Refineries
by Morgan Zealear, on 1/12/21 8:45 AM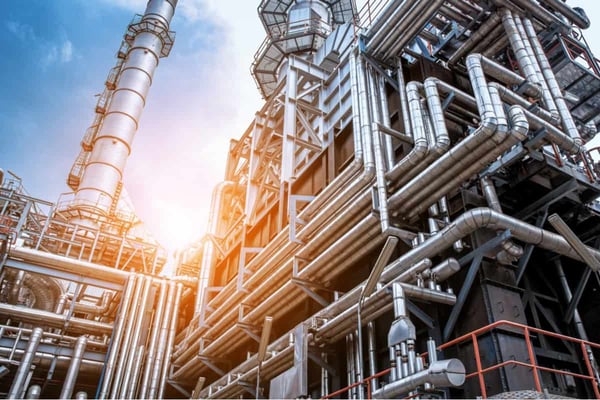 In older refineries, decades of building, upgrades, replacements, and retrofits to infrastructure can leave operations personnel with a less than ideal arrangement of systems. Grab sampling systems are one of the many that come to mind, particularly those with considerable distance between the supply tap and the analyzer. Between those two points, without the right analyzer fast loop calculations and selection of components, there can be many reasons for inconsistent samples.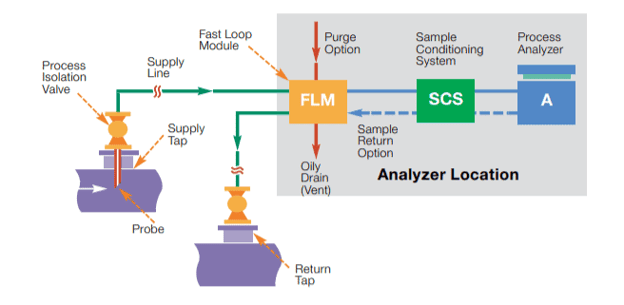 The overall design for a fast loop analyzer. Decisions regarding component
selection affect performance and sample quality.
I've come across many of these situations in Bay Area refineries and advised them on improvements regarding analyzer fast loop sampling designs that were problematic. All of these analyzer fast loop calculations focus on delivering a representative sample to the analyzer as efficiently and consistently as possible.
Advantages of Tubing Over Pipe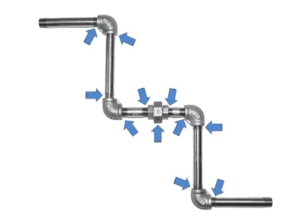 Many older analyzer fast loop systems may have been installed with welded pipe. In comparison to tubing, pipe presents several disadvantages. Pipe with ¾" ID requires about four times the flow rate of ½" tubing. Rougher inside walls, joints, and elbows increase the pressure drop over long piping runs. Installation and maintenance costs are higher than tubing. You'll want to replace pipe with tubing of the appropriate diameter. In most instances ½" stainless tubing delivers better performance and results in lower long-term operational costs. The switch to tubing will require a recalculation of supply line flow and pressure, and the possible addition of valve and flowmeter to maintain the required rates.
A Simple Method to Compensate for Insufficient Pressure
Typically, analyzer fast loop calculations specify the same size tubing for the supply and return lines. That arrangement simplifies system fabrication. However, if the pressure in the supply line is inadequate to drive the process—supply tap to return tap—increasing the diameter of the return tubing can remedy the problem. You won't affect the response time of the analyzer, and it's certainly preferable to the cost of installing a sample pump.
Supply Tap and Return Tap Locations
The locations of the analyzer fast loop supply and return taps also affect performance and sample quality. Ideally, the return tap has a lower pressure than the supply tap. If that's not the case, then install a check valve on the return line to prevent backflow into the analyzer.
If the supply tap is located on the discharge side of a process pump and the return tap is on the suction side, you shouldn't have any pressure problems. However, with this arrangement, there's slight contamination of the process fluid from the return from the analyzer. You'll minimize the risk of obtaining an inaccurate sample by limiting the supply line to 5% or less of the pump discharge.
When revisiting the locations of supply and return taps, there may be an opportunity to find better locations for each or relocate the analyzer closer to the supply. Improvements in analyzer technologies are continually reducing the footprint of these stations, allowing them to be located in areas previously unsuitable. Minimizing the distance between the process sample tap and analyzer reduces the time required to purge the supply tubing in order to deliver a fresh sample to the analyzer.
Analyzer Fast Loop Calculations With the Guidance of an Experienced Partner
Getting all the analyzer fast loop calculations correct—optimum locations of supply and return taps, tubing diameter, length of tubing runs, pressure differential—is much easier with the guidance of a local partner with decades of experience in the design and fabrication of fast loop modules. Swagelok has helped Bay Area refineries improve the efficiency and consistency of fast loop sampling.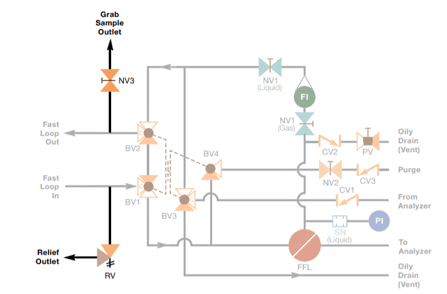 Swagelok's design experience, inventory of high-quality components, and fabrication skills can deliver analyzer fast loop modules tailored to your specific sampling requirements.
Swagelok Field Engineers are available to consult on-site to evaluate the specific requirements of your sampling processes. To improve your process, their analysis may recommend several of the options mentioned above. Swagelok's experience in designing and fabrication fast loop modules may also include:
welded assemblies that reduce potential leak points;
zero clearance fittings for straight run tubing sections;
special bypass filters to provide high flow rates; and
flowmeters and pressure gauges to alert to confirm supply and return metrics and alert to any problems.
Swagelok designs analyzer fast loop modules to minimize the amount of sample sent to flare, a real advantage when faced with stringent BAAQMD regulations. And from an operational perspective, analyzer fast loop modules are designed to provide easy access to any component without interfering with other system components. For easier maintenance, interlocking ball valves switch the flow to a bypass to isolate the sample system from the analyzer.
All fast loop modules are thoroughly tested with nitrogen with the requirement of no detectable leakage using liquid leak detection methods. The analyzer fast loop module delivered to you is backed by Swagelok's Lifetime Warranty and our engineer staff is always available for post-installation technical support.
To find out more about how Swagelok Northern California can bring greater effiency and consistency to your fast loop sampling processes providing expert consulation and design, fabrication, and testing, contact our team today by calling 510-933-6200.
---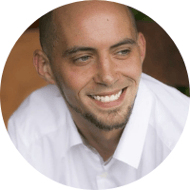 Morgan Zealear | Product Engineer – Assembly Services
Morgan holds a B.S. in Mechanical Engineering from the University of California at Santa Barbara. He is certified in Section IX, Grab Sample Panel Configuration, and Mechanical Efficiency Program Specification (API 682). He is also well-versed in B31.3 Process Piping Code. Before joining Swagelok Northern California, he was a Manufacturing Engineer at Sierra Instruments, primarily focused on capillary thermal meters for the semiconductor industry (ASML).