A Customer's Torture Test Proves Swagelok's Quality
by Jeff Hopkins, on 3/20/19 8:45 AM
FKB Series valves held up far beyond their rated pressure
---
"

Ocean edge is unique in the fact that they deal with pressures that most manufacturers won't touch.

"
- Chris Ori, Local Swagelok Sales and Service Center
---
Manufacturers don't usually like to see their products abused. And that's exactly what Ocean Edge Services Inc. did with Swagelok's FKB Series ball valves during some evaluation tests.

"We were trying to destroy it," says Santiago "Chili" Gomez, president of Ocean Edge. Swagelok didn't have to worry, however, because the valves stood up to the punishment.
Deep-water pressure
Ocean Edge makes customized hydraulic power units that enable remote control of offshore oil and gas platform production rates and emergency shut-off capabilities. Their units go into service hundreds of feet under the sea floor.

"Ocean edge is unique in the fact that they deal with pressures that most manufacturers won't touch." Chris Ori, Technical advisor, Swagelok Southeast Texas. The dangers of operating at that pressure start with the pumps that create the pressure and continue on through all the connections in the system.

Ocean Edge was having issues with another vendor's product and saw Swagelok's FKB valves as a possible answer. To make sure, the company put some valves through a variety of tests.
They tried barely cracking the seal. They tried hitting the handle hard. The action remained smooth even with 100 percent differential, meaning that one side of the valve was feeling all the force, while on the other side the force was zero. The valves held all the way up to 22,000 psi, even though they are rated at 15,000.

"They've really taught us how dependable it is," Ori says.
---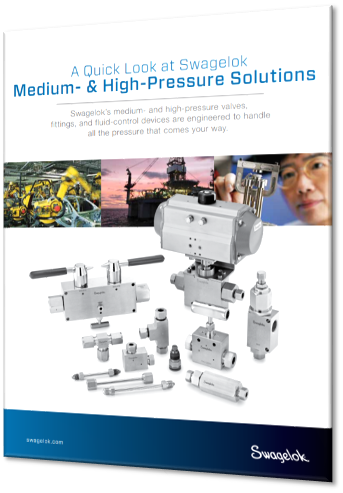 Learn more and Get the Literature >>
---
Saving time
In addition to the valves, Ocean Edge found that Swagelok's FK medium-pressure tube fittings outperformed cone-and-thread tubing.

"One of the biggest things on cone-and-thread is vibration," Gomez says. "You're not going to have that on the FK."

In addition to superior performance, the simplicity of FK tube fittings saves prep time over cone-and-thread tubing. "It's 98 percent faster on FK compression. I mean there's no comparison," Gomez says.

You can hear Gomez give more details in the short video below.

Even if you don't set out to push Swagelok valves, fittings and other fluid system components to their limits, you'll be glad you can rely on their performance.
---
More like this: