A Smart Way To Get More From Sampling Systems
by Jeff Hopkins, on 11/12/18 9:00 AM
White paper shows how to put intelligence directly into sample handling
---
""The industry is also investigating far broader use of automation. The industry needs a better automated solution; one that lets them capture critical data quickly, safely, and at the right time inside the sample handling system." "
- Dean Slejko, Swagelok Company, From Pushing Intelligence Down into the Sample Handling System
---
The chemical and petrochemical industry is facing some big changes. A generation of seasoned instrumentation engineers and analyzer technicians is retiring just as plants are expected to achieve higher efficiency.
Companies are adapting in a variety of ways, including broader use of automation such a programmable logic controllers for sampling systems. PLCs typically are located remotely from the sample handling system and connected with cabling routed through an intrinsically safe barrier. Swagelok has come up with a smarter way.
The intrinsically safe Swagelok Intelligent Control Module product and intrinsically safe pressure and temperature PTX series transducers put intelligence directly into the sample handling system. The idea is to push intelligence down into this last stop before a sample is directed to an analyzer. In that way, you can capture temperature, pressure, and flow of critical process and calibration fluids, manage sampling and purge cycles, and report all of this information in real time instantly, directly ahead of the analyzer.
---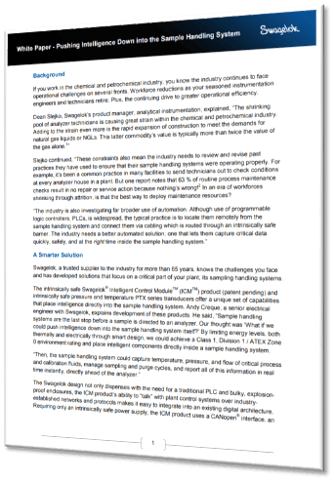 Pushing Intelligence Down into the Sample Handling System (White Paper)
---
Clean and versatile
The Swagelok design gets rid of the need for a traditional PLC and bulky, explosion-proof enclosures, and the ICM product's ability to "talk" with plant control systems over industry-established networks and protocols makes it easy to integrate into a plant's existing a plant's control system.
The ICM product is the nerve center, with the ability to operate up to six pneumatic stream selection valves. It can send data continuously to your plant's network. Its embedded script processor lets you access an on-board library of scripts to capture temperature, pressure, or flow. Or, you can program the ICM product yourself to tailor its operations to your needs. You can tell the ESP to "loop" any of its routines for any interval and then transmit that information over your plant network. You can even monitor the script, reading information from the network and change its behavior while it's running.
Swagelok's intrinsically safe PTX series pressure and temperature transducer features a low-volume, zero dead-leg flow path for faster response time. It employs micro-electro-chemical technology for bonding the strain and temperature sensing function directly into the device's metal diaphragm. This design needs no oil-filled cavities and requires no recalibration.
Connect the ICM product and a pair of intrinsically safe PTX series pressure and temperature transducers with an orifice plate between them, then install the assembly directly upstream of the analyzer inside the sample handling system, and you can measure pressure and temperature, calculate flow, and drive any operational or purge routines you specify.
---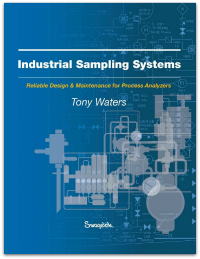 Industrial Sampling Systems, the definitive reference guide by expert Tony Waters (book excerpt)
---
The details
If this brief overview piques your interest, you can get more details in a free white paper from Swagelok, "Pushing Intelligence Down into the Sample Handling System." It delves into the details such as scripting language and the type of interfaced used, and gives the insights of Dean Slejko, Swagelok's product manager for analytical instrumentation, and Andy Creque, a senior electrical engineer with Swagelok.
Then browse our catalog of smart products and imagine how they could help you.
---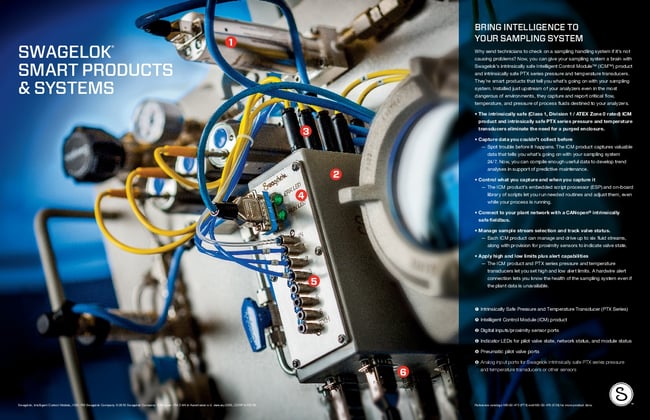 Swagelok Smart Products and Systems (Catalogs)
More like this: