Actuation Gives Swagelok Ball Valves Extra Versatility
by Jeff Hopkins, on 6/5/19 8:45 AM
We offer them in pneumatic or electric versions, with a manual override too
---
"A ball valve's design is about as basic as it gets. At its heart is a ball with a hole through it -- sometimes straight, sometimes with a right angle."
- From The Inside Story On Swagelok Ball Valves
---
Swagelok offers several different ways to automate our ball valves. Let's go through the list.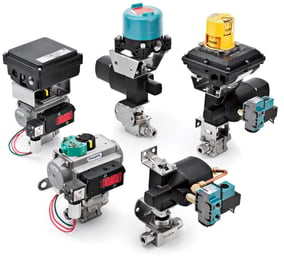 First up are the actuators that are operated pneumatically. You can get them set so the valve is normally open or normally closed, allowing you to use it as a fail-safe valve to shut off or isolate a system. The valve can be tripped upon the loss of power, and the valve will shut (or open) itself. If you don't have any compressed air available to move the valve, we also offer an electric actuator option. It will allow you to operate the valve remotely.
Making improvements
The one big difference from our pneumatic model is that the standard Swagelok electric actuator must be activated whenever you want to change position. That is, it can't really be used when you want the valve in a normally closed or normally opened position.

That didn't sit well with Neil Ide, our former Custom Solutions manager. He noticed that many systems that use actuated ball valves also have a manually operated ball valve right in front of it on the line. For the price of two ball valves, he thought, there should be a way to overcome that duplication. If he could eliminate the need for the manual valve, it would save space too.

So he called on the expertise of Hanbay Inc., a manufacturer of planetary gear actuators.

"I had Hanbay design a special electric actuator that has a normally open or a normally closed position," Ide says. "It's also available with a manual override. You can close or open it manually, and even lock it closed or lock it open. This new actuator is available only through Swagelok."
---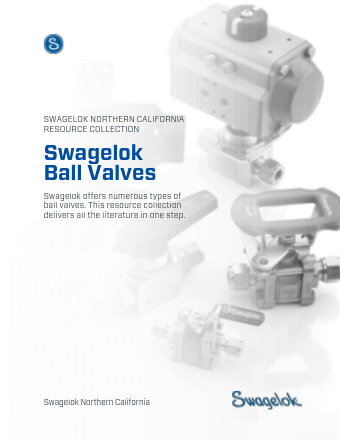 ---
So long, solenoids
It also makes a good replacement for a solenoid valve, which effectively seals in only one direction. If there's any reverse flow in your fluid line, a solenoid valve would require the addition of a check valve, which means spending more money.

Solenoid valves also have a much lower flow coefficient. The flow has to turn a hard 90 degrees inside the valve, and then another 90 degrees out of the valve. You need quite a large one to get good flow. That, in turn might require a bigger pump to compensate for the flow constriction.

A third drawback is that solenoid valves have pipe thread fittings, increasing the chance of leakage. And you'll still probably need to back it up with a manual actuated ball valve for lockout and tag-out safety.

Come on down for a demonstration in our customer briefing center. We'll be more than happy to help you get a handle on valves.
---
More like this: