Swagelok in Action: Tackling Assembly Design Challenges
by Jeff Hopkins, on 8/31/16 9:00 AM
From simple parts to full custom assemblies, Swagelok Northern California is fully committed to providing the ideal solution. Our team has offered dedicated service, reliable partnership, and peace of mind to customers in specialty industries since 1963. Custom design and engineering from the Swagelok Northern California team routinely saves our customers time and money.
OPTIMIZED ASSEMBLY DESIGN SERVICES FOR IDEAL OPERATING CONDITIONS
Manufacturing depends on creating the best possible operational environments, and semiconductor manufacturing is no exception; temperature, air quality, gas, and moisture levels are all critical elements for successful production. Precise and efficient control of these conditions depends upon sophisticated assemblies.
The Challenge: The manufacturer, a dedicated Swagelok customer, routinely purchased specialty components to build chillers, air management assemblies, and other controlled gas assembly solutions. While their technical staff was highly skilled and capable of their own construction and assembly, they needed design optimization and assistance with regulator sizing.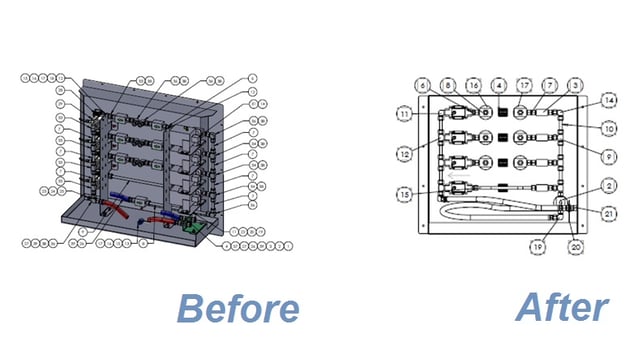 The Solution: The additional expense of sourcing the Swagelok Northern California team to complete full assemblies (as opposed to simply sourcing parts) was negligible compared to the value gained by the in-house production technicians' increased capacity to focus on higher value operations. In addition, Swagelok Northern California was able to build the same solution with a smaller footprint, fewer parts, and the same level of performance.
Not only did the manufacturer save time and money, they gained an immense value: a full assembly warranty, as opposed to warranted parts only. The added quality and capacity also allowed the manufacturer to boost product output without any additional hiring or operational changes.

Swagelok Assembly Solutions
Working as a truly dedicated partner is at the heart of our mission at Swagelok Northern California. We pride ourselves on offering the engineering expertise, global capabilities, and professional efficiency to enhance any project — even those that overlap with existing in-house technical capacities. We stand behind our service, our warranty, and our solutions.
Reach out today
to learn more about how we can help with your next assembly solution.