When Will It Burst? Contest #3 - Welded Stainless Steel Tubing
by Jeff Hopkins, on 5/7/14 8:00 AM
Heat and welds change the amount of pressure that tubing can handle, as our video shows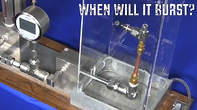 You can watch the next edition of When Will It Burst? and enter a guess
here »
As we get into the third burst contest of our When Will It Burst video series, we congratulate the winner of When Will It Burst? #2, who came the closest to guessing the amount of pressure it took to burst a piece of 316 seamless stainless steel tubing. Go to this week's video to see the winner and the burst pressure, which is much more than it took to burst the copper tubing in our first burst contest.
This week's video also talks about derating. The basic idea is simple: Some factors, such as system temperature or weld integrity, change the amount of pressure that tubing can handle. How much pressure do you think it will take to burst welded stainless steel tubing that's the same size as the seamless stainless steel tubing we burst last time? Watch the video and enter your best guess here before Noon on Thursday, May 15th. You can enter your best guess after the deadline, just for fun, but not to win the prize (a $50 gift card - you name the store or restaurant).
By now you may be thinking of some other objects you'd like to see us burst. Tell us your suggestions when you enter your burst pressure guess.
Additional Resources