When Will It Burst? Where The Rubber Hose Meets The Load
by Jeff Hopkins, on 11/5/14 8:00 AM
How much pressure can Swagelok PB series rubber hose take?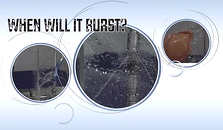 Watch the video and enter a guess for a chance to win
here »
We've been bursting to get back to our video series, "When Will It Burst?" Just as in the first batch of videos earlier this year, in each video we take an item and see how much pressure it can take before it bursts. It's a lot of fun, and a memorable demonstration showing that if Swagelok fittings are properly installed, they will stand up to pressure without leaking.
Rubber hose
We kick off the new installments by bursting Swagelok PB Series rubber hose. This is our ozone-resistant, general-purpose rubber hose. This kind of hose often is a good lower-cost solution in lower-pressure applications such as compressed air, water cooling and oil transfer. Swagelok PB series rubber hose has a smooth-bore Buna N core, an internal fiber reinforcement that enhances its pressure rating and ensures connection retention, and a flame resistant cover. The hose is available in 1/4, 3/8, 1/2, 3/4, and 1 inch nominal hose sizes. For the video, we chose 3/8 inch hose installed with Swagelok PB Series hose end connections. It's rated for a working pressure of 300 psig at 70 degrees Fahrenheit. Watch the video to find out its rated burst pressure.
Watch, guess, win!
What happens in real life or at least real life as simulated in our burst chamber? How much pressure can the hose take before it bursts? Watch the video and enter your best guess on our When Will It Burst? video page. The contest ends Friday, Nov. 14th. The person whose guess comes closest to the actual burst pressure, wins a prize, a mention in our next video, and unlimited bragging rights.