Swagelok Northern California Wishes Dirk Miller A Happy Retirement
by Jeff Hopkins, on 2/26/14 8:00 AM
Account Manager, Dirk talked the talk, walked the walk - and put Swagelok parts to some novel uses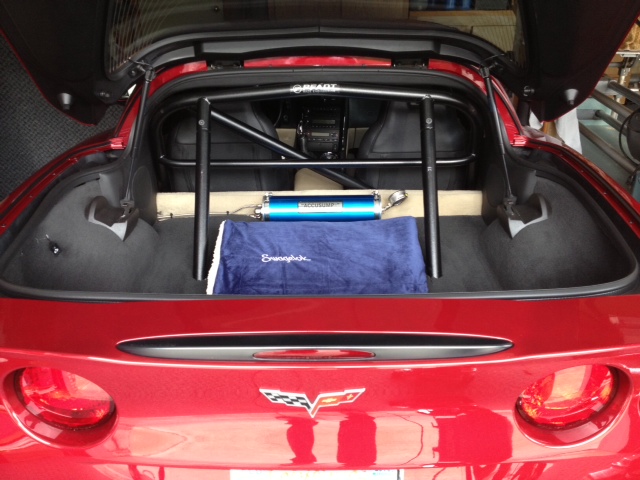 Dirk Miller ingeniously used Swagelok parts in an accusump to increase oil pressure in his Corvette. Prompting us to imagine, "if only we could use Swagelok for everything" Learn more about our Swagelok for everything campaign
here »
Dirk Miller, an account manager with Swagelok Northern California for 25 years, is retiring at the end of February. He embodies the spirit of many of our associates, people who have spent much of their adult lives working with Swagelok products and are dedicated to helping our customers.
Miller doesn't just encourage customers to use Swagelok products. He has used them himself in some unusual ways. Take, for instance, his red Corvette C6. This sixth-generation 'Vette can pull a few Gs on corners and on road courses, starving the engine of oil. No problem when you can bring Swagelok fittings to the rescue. Miller used them to plumb in an Accusump to dump up to three extra quarts of oil into the system when the pressure drops below 24 psi.
"To produce a leak-free system, I used 1/8", ¼" and ½" SS tube fittings, a 2 ½" glycerin filled C Model General Purpose Pressure Gauge, and PTFE lined hoses: B Series, X Series and S Series," he says.
Training and more training
Miller got involved with Swagelok thanks to his talent on the tennis court. As a young man, he and his wife moved to Southern California for her residency in her last year of medical school. Looking for a job proved frustrating, so Miller was blowing off some steam on a public tennis court. While giving a few tips to a fellow player, Miller learned that his student's father was a real estate agent who, it turned out, had just sold a house to the owner of the Swagelok sales and service center in Long Beach. Miller should give the man a call, the agent suggested. These days, that's called networking. All Miller knew was that he had a shot at a job.
"I didn't even know how to pronounce Swagelok," Miller says. Before long, though, he was in Swagelok training for six months, learning all the product lines and their working parameters. Then they pushed him out of the nest to work with customers.
About a year later Miller's wife landed a job in the Bay Area, and Miller interviewed with one of our predecessor companies, Oakland Valve & Fitting.
"Sure enough, they decided they wanted to have me on as an account manager," he says. Miller's first assignment? Another six months of Swagelok training. "That's the Swagelok way: Let's make sure this guy really knows his stuff," Miller says.
But Miller wasn't deterred. He'd once sold vacuum cleaners door-to-door in Montana, a lonely job that depended primarily on how many doors he could knock on. With Swagelok he learned that he had an entire organization behind him.
"It's not so dependent on me being out there, but me being an arm interacting with a customer in the field, and the nerve center here in Fremont and the heart pumping back in Ohio," he says. " Everybody does their part. Everybody working together. It is an amazingly efficient way to do things. I was fortunate to be part of the Swagelok body."
Longtime relationships
"Emotionally it has been a little tough to say goodbye to my customers, many of whom I have worked with for 15+ years, and one for 25 years," Miller says. A lot of those customers were in the semiconductor industry, and for the past 15 years Miller has given the biggest part of his attention to the Lawrence Livermore National Laboratory and its National Ignition Facility (NIF). The NIF is the world's largest and most energetic laser facility, about the size of an entire sports stadium. Its giant laser focuses 192 beams onto a fusion target about the size of a pencil eraser.
In support of the NIF project, Swagelok worked closely with site engineers to expand the capabilities of its orbital welder to one-sixteenth-inch tubing, about half the diameter that Swagelok's orbital welder had been able to handle previously.
Miller didn't ignore the startups, however. "A lot of my attention was on the new companies in the Fremont area, making sure they had a good understanding of the Swagelok product line," he says.
New directions
Like many new retirees, Miller plans to do some traveling with his wife, who has retired as a doctor. But he also plans to keep serving the community, possibly with Meals on Wheels. "A lot of people have helped me over my years to get me where I have been. If I can, I'll do a little something to give back," he says. "I'm not sure I'm going to call this a retirement. I think I might call it a transition." Whatever he decides to call it, we thank him for his 25 years of service to Swagelok Northern California and our customers. Now Dirk, go gas up the 'Vette and enjoy retransitionment!
Additional Resources