From Our Swagelok Northern California Will Call, Meet Peter Fraser
by Jeff Hopkins, on 9/17/14 8:15 AM
His hands-on experience gives him invaluable insight on what customers need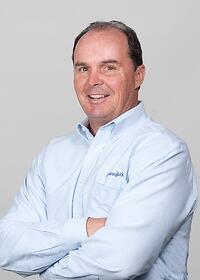 If you visit our Will Call in Fremont, you will probably meet Peter Fraser, and if you meet Fraser, he will suggest you attend our training
get more info »
You naturally expect Swagelok Northern California associates to be familiar with our catalog of products and how they work. That's only the baseline, however. Some of our associates bring a lot more expertise to bear. Take Peter Fraser, who mans the counter at our Will Call in Fremont. Before he joined us about eight years ago, he worked for a large compressed gas company. As a result, he has years of hands-on experience using Swagelok components in the field.
Seeing beyond the parts list
Just by listening to a customer, asking questions, and looking at the list of parts on an order, Fraser often can tell the intended use. That's good news for the customer. For instance, a check valve is designed to keep fluid moving in a single direction, much like the valves in your heart keep your blood flowing in one direction. But people sometimes try to use them in applications where they really need a proportional relief valve instead. When Fraser suspects that's the case, he speaks up.
"There are a lot of little things I pick up on," he says. "I'll share any concerns. I help customers through these conversations because I don't want them to come back disappointed."
Sometimes Fraser's knowledge can save a lot of money for a customer. One time a customer came in to order Swagelok's CT Series Convoluted Metal Tubing.
"The customer explained the application in which he intended to use the convoluted metal tubing. I suggested he take a look at Swagelok's flexible metal hose, specifically the FJ Series all-metal hose instead," Fraser says. "The FJ hose was more durable for their application which required repeated installation and removal. The customer ended up buying more than 30 hoses, saving about $120 apiece."
Fraser doesn't always have a suggestion that will save the customer money on the initial purchase. Depending on the application's pressure, temperature, media, and other factors, he may suggest a product that is more expensive, but only when it is more appropriate for the job. "In the long run, the right part will save our customer money, even if the initial price is higher because it will last longer and require less maintenance," Fraser says.
In one case, Fraser noticed that a customer had a vice mounted on the back of his truck. So he asked whether the customer ever used a Swagelok preswaging tool. Before long the conversation expanded to cover a wide range of Swagelok tools: T wrenches, cutters, reamers, and preswaging tools in several sizes.
"This guy was ecstatic with the tools I showed him. He was grateful he was asked a simple question," Fraser says.
Educator
Whether the customer is new to Swagelok or a mechanical contractor with several decades of experience, they end up learning from Fraser. For example, he always asks if they are aware of the proper way to install a Swagelok tube fitting. And if they are not, he explains it to them and suggests they attend one of our tube fitting safety seminars.
"If they are over-tightening, it lowers the life span of our tube fitting," Fraser explains. "And if they are under-tightening, the tube fitting may leak which can cause all sorts of problems. If they don't know how to use our tube fitting, we probably won't get them back for any of our other products."
He still gets calls from the company where he used to work, new employees ask about the right way to tackle certain jobs. Even at the large semiconductor companies, each new generation comes in with lots of knowledge about calculations, but little hands-on experience. They discover Fraser is a fountain of knowledge.
That part of his job is likely to get bigger now that the Will Call area has tools on display. That makes it easier to bring them to everyone's attention and make sure they know how to use them.
"We recently installed a vice at the Will Call. I have some pre-cut tubing, so I can have customers deburr it and install a tube fitting right there," Fraser says. Giving the customer a chance to practice, especially if it's been a while since they've handled a particular tool, helps them leave the Will Call with more confidence.
Fraser isn't boastful about his expertise, and he is still furthering his own education. "Learning Swagelok's inventory is a marathon, not a sprint," he says. "I never used pipe fittings, so I still make double sure to look up the part number so I don't get too overconfident."
Additional Resources