Engineered Combinations of Alloy Tubing and Swagelok® Tube Fittings
by Jeff Hopkins, on 8/14/14 9:00 AM
Swagelok's engineered combinations can offer special properties for unusual installations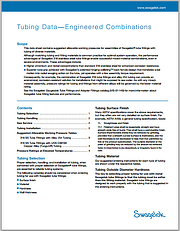 This data sheet contains suggested allowable working pressures for assemblies of Swagelok tube fittings with tubing of diverse materials
get more info »
We usually discourage mixing materials when it comes to tubing and Swagelok tube fittings. There are exceptions, however, when using our 316 stainless steel tube fittings. They actually offer several advantages in mixed material combinations, even in severe environments. These advantages include:
■ Higher chromium and nickel concentrations than standard 316 stainless steel for enhanced corrosion resistance.
■ Superior tube grip with Swagelok's patented hinging-colleting back ferrule design that translates axial motion into radial swaging action on the tube, yet needs only a low assembly torque.
Combine 316 stainless steel Swagelok tube fittings with alloy 254 tubing, for example, and you'll have an economical, corrosion-resistant solution for installations that might be exposed to seawater.
Note the ratings
When mixing materials, it's vital to keep a few things in mind. First, the tubing must be softer
than the fitting material. Also, different alloys have different pressure ratings. With any assembly that mixes materials, it's the lower material rating that matters most.
We have a free download with tables that show the suggested allowable working pressure ratings of special alloy tubing in a wide range of wall thicknesses. Allowable pressure ratings are calculated from S values for the lower-strength material as specified by ASME B31.3, Process Piping, or based on repeated pressure testing of the Swagelok tube fitting with a 4:1 design factor based on hydraulic fluid leakage. Swagelok tube fittings have been repeatedly tested in both the minimum and maximum wall thicknesses shown. The fittings are not recommended for tube wall thicknesses outside the ranges shown in the accompanying tables for each size.
As always, the suggested allowable working pressure tables are for reference only. No implication is made that these values can be used for design work. Applicable codes and practices in industry should be considered. ASME Codes are the successor to and replacement of ASA Piping Codes. Also, no allowance is made for corrosion or erosion.
Gas service
Gases (air, hydrogen, helium, nitrogen, etc.) have very small molecules that can escape through even the most minute leak path. Some surface defects on the tubing can provide such a leak path. As tube outside diameter increases, so does the likelihood of a scratch or other surface defect interfering with proper sealing. Carefully follow Swagelok's tubing handing and tube fitting installation instructions to get the best results and select one of the heavier wall thicknesses of tubing listed in the tables. A heavy-wall tube resists ferrule action more than a thin-wall tube, allowing the ferrules to coin out minor surface imperfections such as scratches.
Additional Resources