Swagelok Northern California Knows the Value of Our Values
by Jeff Hopkins, on 8/21/14 11:00 AM
These are the principles we live by, and how we deliver value to our customers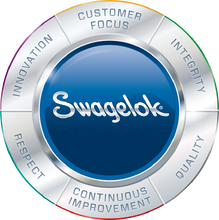 Read more about how our values have been practiced and championed, as well as how others have benefited from them
here »
Swagelok Sales and Service Centers span the globe. In one sense we are independent, each one tailoring its services to its local clientele. Yet we are united as one with Swagelok Company by a set of core values. As the representative of Swagelok in Northern California, we are committed to:
Customer Focus
Create value for the customer to create value for Swagelok
Quality
Provide high value and high performance in our products, processes, and services
Integrity
Choose to do the right thing with courage and character
Respect
Commit to the success of each associate through an environment where people are trusted, respected, and treated fairly
Continous Improvement
Systematically and consistently do things better
Innovation
Challenge conventional wisdom to create new value for the customer
Core values
Our core values are the pillars upon which our company was built. And they fuel where we are going. Everything we do, everything we make, everything we have to offer comes from these core values.
Take another look at the list. Customers can depend on the Swagelok brand to consistently provide extraordinary quality in all our products and services. For us, integrity means choosing to do the right thing with courage and character. We respect the individual, so we foster an environment where people are trusted and treated fairly. Our focus on innovation has expanded our offering to include new services and new products. As a result of our continuous improvement, we continually strive for improvements each day and for greater efficiencies in our operations, allowing us to invest more in our people and operations.
Notice that our values are not reactive, but are the underlying threads woven into the fabric of our 60-plus-year culture. Our values are not just words on paper. They're who we are.
The value of our values
The value of our values is that they don't just benefit our company. They benefit our customers and our customer's customers, too. The more we can embody and share our values, the stronger we all become.
In future posts, we'll take an in-depth look at each of these values, and show how we put them to work at Swagelok Northern California. We are confident that, with a better understanding of how we operate and experiencing our values in your interactions with us, you'll see the value of our values and look to us for all your fluid system needs.
Related Articles