Fluid System Specialists Step Up For The Ice Bucket Challenge
by Jeff Hopkins, on 8/27/14 8:00 AM
Swagelok Northern California makes a group effort to support ALS research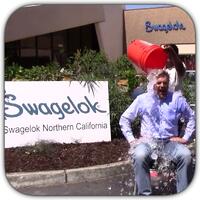 Challenge Accepted!! You can watch our ALS Ice Bucket Challenge video below »
All across the country this summer, people have been taking the Ice Bucket Challenge. The challenge is to get doused with a bucket of ice water on video, or donate money to charity, or both. Those who accept the challenge then challenge three others.
The Ice Bucket Challenge caught on earlier this summer and quickly became associated with raising awareness and money for amyotrophic lateral sclerosis (ALS), also known as Lou Gehrig's Disease.
This past month my son Jaxon accepted the challenge, and decided to nominate Swagelok Northern California.
Bucket auction
A lot of us wanted to be involved, but we were also mindful of California's drought. You can see how we came to a good compromise by watching our video.
Rod Fallow, our company president, took the lead by volunteering to get the full-bucket treatment. Then came the question: Who would get the honor of dumping a bucket of freezing water on their boss? We had a lot of volunteers, so we held an auction and added that money to our donation.
Special connection
The challenge has really caught on in the past month or so. As recently as Aug. 6, the ALS Association was asking "Have You Heard about the Ice Bucket Challenge?" Ten days later, donations to the association had passed the $10 million mark. A week after that, the total had topped $62 million. As of Tuesday this week, the total stood at $88.5 million.
For us, taking the challenge was more personal than just participating in a social phenomenon. Jaxon's grandfather has had ALS for 23 years. Life expectancy of a person with ALS is two to five years, and only 5 percent of people with ALS live more than 20 years after diagnosis. Jaxon knows firsthand that a long-term illness is hard both on the person with the disease and on their family who are often their primary caregivers.
We also know that the ALS Association is not the only organization working to fight the disease and help families of people living with ALS. Some local organizations include the Family Caregiver Alliance, the UCSF ALS Center and the Forbes Norris MDA/ALS Research & Treatment Center.
Our challenge
If you have received The Ice Bucket Challenge, the ALS Association asks you to use common sense. Think before dumping a bucket of ice and freezing cold water on small children, the elderly, anyone in poor health, or animals of any kind.
Now that we have been soaked, we are challenging our friends at Swagelok Edmonton, Swagelok Denver, and Swagelok San Diego. After all, Swagelok is all about fluid systems. Show us what you've got.
Additional Resources