Meet Swagelok Steam Systems Engineer, Casey Rivera
by Jeff Hopkins, on 9/10/14 6:00 AM
Rivera has been championing energy efficiency since he was a teenager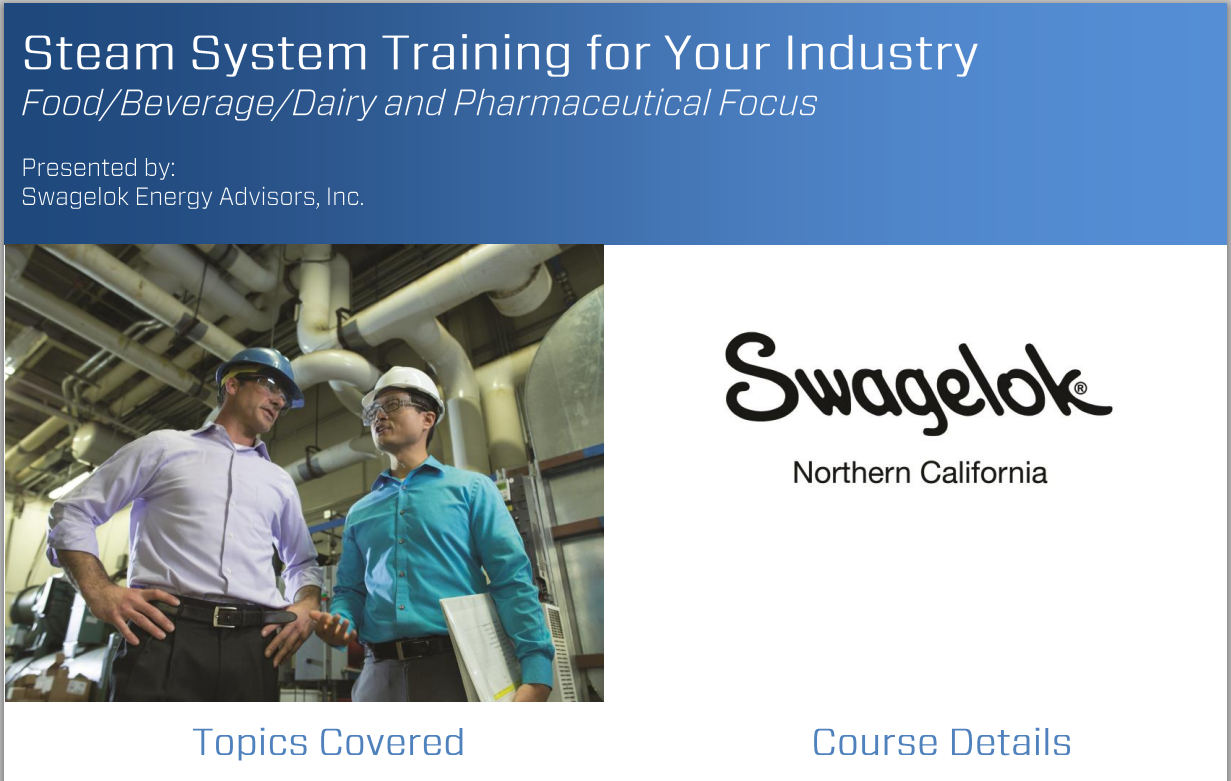 Industry focused steam system training courses with practical ideas and action points to immediately improve your steam system
get more info »
Joining Swagelok Northern California in October of last year, Casey Rivera is Swagelok's newest steam systems engineer, and he is currently the product manager of services for Swagelok Northern California. Rivera has hit the ground running by helping to pioneer two new industry focused steam system training courses this November in Northern California. Each course focuses on steam system topics most relevant to your industry with practical ideas and action points to immediately improve your steam system. The Food, Beverage, Dairy, Pharmaceutical steam system training course focuses on steam system topics like process hot water and CIP systems. The Refinery and Petrochemical steam system training course targets topics like steam turbines and reboilers.
For more details about the courses, including more complete lists of topics, dates of the training courses, and registration information, click here »
Early interests
Since he was a teenager, Rivera has been interested in the way the world works, and helping it work better. His first job was working for the water treatment facility in his hometown of Keene, N.H., at age 15.
"My main responsibilities were to conduct daily lab tests on water clarity, turbidity, and chemistry. It really kick started my passion for the sciences at a relatively young age," Rivera said.
His interests got more complex when he went off to Worcester Polytechnic Institute in Worcester, MA, where he earned a Bachelor of Science degree in chemical engineering. There, he became a member of the American Institute of Chemical Engineers.
"One of the projects I helped to start and lead at my time there was the 'ChemE Car.' The idea behind the project was to develop and build a small car that could run completely on a chemical reaction," Rivera said.
"Throughout the year, we designed a car run on a small fuel cell and started fabrication. The group had strong participation, and continued on after I graduated."
Steam efficiency

"Throughout my college career I knew I wanted to work to promote energy efficiency. I had researched alternative energy production measures, particularly fuel cells," Rivera said.
Prior to graduation, he got a job for a company that packaged steam turbine generator sets, and promoted the efficient use of steam to generate on-site power.

"During my time there, I realized that there is a lot of potential in steam, and I knew that I wanted to focus my career in that field," Rivera said. When he learned there was an opening at Swagelok Northern California, he determined that the position was a good match to his experience, interests, and career goals.
Full steam ahead
It may seem like a big jump from chemical engineering, but it was really a natural progression.
As a steam systems engineer, Rivera will recommend improvements to existing systems, helping customers get the full potential from equipment that has been performing inefficiently. He finished seven months of advanced training under the experts at Swagelok Energy Advisors around the country.
"Some of the best advice I have ever received was to ask questions," Rivera said. "I have learned that when you ask the right questions at the right time, you can open up a lot of doors and opportunities. Simply stated, you never know if you don't ask."

Rivera plans to continue to promote energy efficiency, safety and reliability, and high performance in steam systems all throughout Northern California and northwestern Nevada with the hope of becoming a trusted resource for Swagelok's customers.
Additional Resources