"When Will It Burst?" Returns With More High Pressure Fun!
by Jeff Hopkins, on 10/29/14 9:00 AM
Our video series is back with more chances to guess burst pressures and win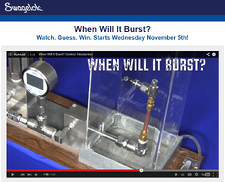 After taking a break for a few months, our video series "When Will It Burst?" will return on Wednesday, November 5th. It's our way of bringing a little bit of fun to a very serious subject. Normally, we don't take it lightly when something bursts. It halts production and might seriously injure someone. Our burst demonstrations are designed to show the safety that is built into every Swagelok product. They perform under pressure.
These videos had their origins in the training classes we provide. One of the highlights of our tube fitting safety seminar is the tube burst demonstration. We do it to show that, when properly installed, Swagelok fittings can handle higher pressure than the tubing itself. We put an assembly in a clear protective chamber, then pump up the pressure beyond what the tubing is rated to hold. The Swagelok fitting doesn't leak, even as the wall of the tubing swells and bursts. To make it a bit more fun and interesting, we ask attendees to guess how much pressure it will take to burst the tube.
Good and bad
In our initial series of "When Will It Burst" videos, we were impressed at how accurate the winners were with their guesses. In fact, the winner in our first video was only a few PSIG from the actual burst pressure.
But we also were surprised at how far off some of the guesses were. In each video, we pointed out that the manufacturer's minimum estimated burst pressure also comes with a built-in safety factor. Most of the safety factors are 4 to 1, so if the maximum suggested working pressure is 1000 psig, the safety factor would put the minimum burst pressure at 4000 psig. Even with that information to help them, some people guessed below the manufacturer's burst pressure ratings, and some guessed much higher. 


That underscores the importance of understanding how the parts are designed to perform if you want to get the most use from them.
A quick preview
If you didn't get a chance to see our first run of videos, here's a short introduction of where we're about to take you. As you can see in the introductory video, most of the time we play it completely straight with tubing or hoses of different materials. But once in a while we toss in something unusual. Viewers of the first series have offered some suggestions that we hope to use in the future, including bent tubing and sample cylinders.
Ready to test your knowledge (or at least your intuition)? Look for the start of our new series Wednesday, November 5th, enter your best guess at www.swagelok.com/whenwillitburst, and see how you stack up against the competition.
Additional Resources