Calera Made Sure Its Steam System Started On The Right Track
by Jeff Hopkins, on 10/22/14 8:00 AM
A one-day on-site visit from a Swagelok Steam System Engineer provided advice and training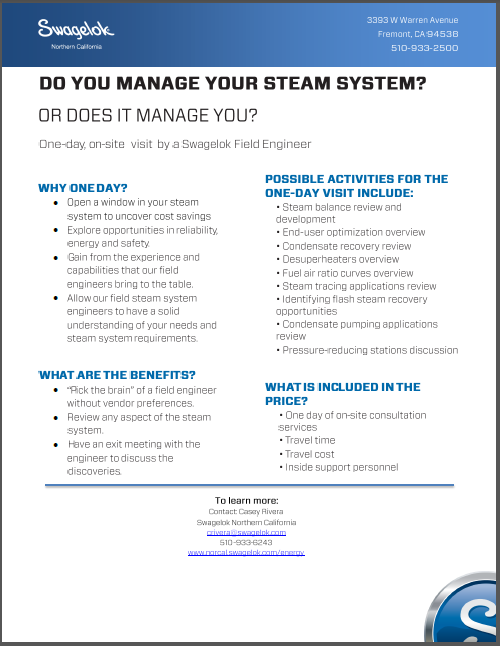 Learn more about a one-day on-site consultation from a Swagelok engineer and request a free phone consultation
here »
Calera Corporation has a novel method for turning a greenhouse gas into something useful. The Los Gatos-based company captures carbon dioxide gas from industrial sources and transforms it into calcium carbonate cement with economic as well as sustainable advantages. The white powder can replace some of the commonly used Portland cement in traditional concrete, or is used as the sole binder in new kinds of products, such as a fiber cement board.
The resulting construction materials are green, while having superior performance over other currently available construction materials.
Steam power
In making the fiber cement board, Calera utilized steam during the curing step of its fiber cement board products. Because adding a steam system meant getting into new technological territory, the company wanted to ensure they got everything right from the outset. Calera brought in Casey Rivera, Swagelok Northern California's Steam System Engineer, to look over the design and make recommendations for efficient operations.
"We have used Swagelok fittings, and they told us they had a team specializing in steam systems, so we said, 'Let's see if we can add some value to our design and optimize our system,' " says Jacob Nagar, engineering manager.
On-site visit
Rivera spent two half-days at Calera. First he reviewed the drawings of the 150-psig steam system. Then he made an on-site inspection of the final installation of the boiler and piping, which measure about 20 feet by 20 feet. He also trained Calera's operators about best practices for optimizing system performance, including proper startup and shutdown procedures.
"He was able to understand our process drawings and figure them out pretty quickly. He is knowledgeable about the types of fittings that we needed to use, and on the ASME code behind his recommendations," Nagar says. "Safety is first for us. We don't want to play with something, especially since it was the first one."
Calera is a research and development company, so it's always looking for a way to improve on an idea.
"We make a lot of changes as we go," Nagar says. The steam system installed should be able to keep its configuration and still deal with changes on the front end. But if not, or if Calera wants to scale up the operation, Nagar adds, "We will bring Casey back to help us continue to refine and improve our process."
Additional Resources